Freshwater Fishing area's in Southwest Florida
Southwest Florida, at first glance, doesn't sound like a freshwater angler's paradise. The region only has a handful of natural lakes, and only one, Lake Trafford, in the farming community of Immokalee, is accessible to the public. There are many other lakes in the region, but they are all made-made rock pits or water retention areas for the numerous housing and golf course developments.
Most of the Freshwater Fishing Area's In Southwest Florida are stocked and offer excellent largemouth bass, peacock bass, and panfish fishing. But, some of these are on private property, and fishing can be restricted to residents and their guests. If in doubt, assume the lake is private and ask for permission before wetting your line.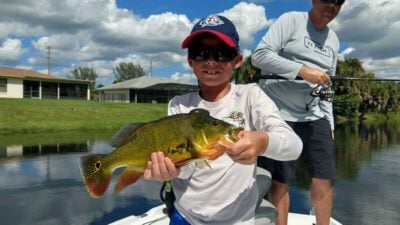 Don't construe the shortage of natural lakes and the restricted use of man-made lakes with a lack of places for freshwater fish. Southwest Florida has hundreds of miles of drainage canals containing tons of fish. Their region has three major canal systems: Lehigh Acres, Cape Coral, and Golden Gate. Certain parts of each system are locally famous for good bass and panfish fishing. Each system has a few boat ramps, some bridges to fish from, and plenty of areas where you can fish from the banks.
Driving around the region, you will also notice drainage canals along many major roads. Don't overlook these as possible fishing spots. If there is a safe place to pull off the road, stop and try it. You will see people doing this daily, usually catching fish.
WOW Great Fishing
This part Freshwater Fishing Area's In Southwest Florida part of the state has year-round largemouth bass and panfish fishing. Most of the bigger bass are caught during, the cooler months when the fish are more actively feeding and at their peak bedding time. Panfish, including bluegills and redear sunfish, will almost always bite a worm, cricket, or small minnow.
Black crappie, preferring colder waters, aren't as prevalent in this part of the state. Lake Trafford has the best crappie fishing in the region, with the winter month being the best. Oscars, exotic fish that are working their way into southwest Florida from the Miami area, can be very abundant in the freshwater canals, particularly along the US 41 canal in eastern Collier County. Catfish, mudfish, and several gar species are also common freshwater residents.
Now that you know the best fishing holes in Southwest Florida check these spots in Erie.
From Staff and Wire Reports
BassOnline.com
888-629-BASS (2277)