Haines Creek
Haines Creek is located between Lake Eustis and Lake Griffin.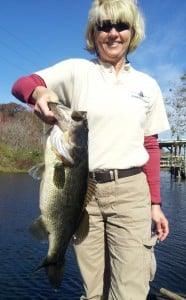 Haines Creek fishing species are Bullhead Catfish, Channel Catfish, Largemouth Bass, Bluegill and Black Crappie.
The creek channel produces best in mid-April through June, along with October and November as water temperatures begin to cool. You can catch small catfish and panfish year-round, especially where there's is water flow.
Haines Creek is a six mile long natural waterway connecting Lake Eustis with Lake Griffin. There is a manned lock about half way through the creek. The lock is normally operated from 7:00 AM until 7:00 PM. The lock operator takes off for lunch around noon and returns within the hour. Parts of Haines Creek on the Eustis side of the lock have been channelized, but the oxbows of the original creek remain. The main creek averages about 6-8 feet deep and contains prime bass habitat. Grass, holes, drop offs, a spillway and numerous canals offer a wide variety of bass fishing opportunities. The entire creek is a major bedding bass area in the spring months.
Haines Creek Fishing
The entire length of Haines Creek holds bass in the Spring. In years with heavy rainfall, the water authority sometimes drains water from the upper lakes and opens the spillway on Haines Creek. This generally adds a strong current in the creek which makes fishing at the spillway and on the Griffin side pretty consistent. There is an idle zone from the first bend on the Eustis side all the way to the lock, makes for undisturbed fishing on weekends and slows traffic on busy boating days.
The clarity of water in Haines Creek is generally good, especially in the residential canals which at times are very clean. Majority of the bedding areas are located in the backwater canal systems surrounded by mobile home parks and lakes. The area has a marina with a large round basin with deep water and rocks along the shoreline. Tournament anglers use this as a basin for sight fishing the numerous beds found along the seawall. There are many other small lakes in the area which all have dredge holes, lilly pads and grass surrounding them.
The "S" bend on the Eustis side of Haines Creek is overgrown with bulrushes and holds quality fish most of the year. Large cypress trees are located along the creek which always hold a few bass in their base. The most productive way to locate bass in the creek is pitch jigs and crawls to the base of the grass and trees. Occasionally, the bass can be found holding close to the bottom of the creek by fan casting a Carolina rigged worm. Never pass up a downed tree or large stump in the creek, especially in the winter months. Hanies Creek bass go to wood in cold water and tend to congregate in these areas.
Major bass bedding activity starts around the first full moon in January, but fishing in the creeks are best in pre-spawn and post spawning months. There is an entrance to a flooded former vegetable farm on the Griffin side of the Haines Creek lock. In times of high water, fishing the newly created marsh is worth the drive and the action non-stop topwater action. For great fishing using a professional guide contact us at Ocala Bass Fishing
Haines Creek Map
Haine Creek RV Village
10121 County Road 44 E.
Leesburg, FL 34788
Phone: (352) 728-5939 Fax: (352) 728-5798