Fishing Holiday Park in Everglades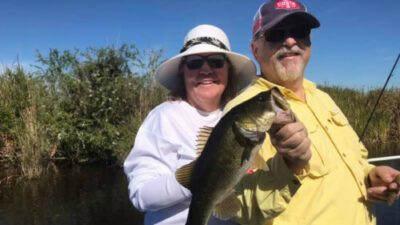 Today, I had the pleasure of doing some fishing at Holiday Park in Everglades with Dan and his wife. Traveling from Illinois, they were ready to land themselves some quality largemouth bass.
The boat was filled with fish all day. Dan caught a really nice largemouth weighing 7 pounds 8 ounces.
Everglades Fishing is up this season. The numbers and quality of bass are up as well.
Oscars are everywhere in the Everglades, and we caught many of those too. We were throwing spinnerbaits, and they were tearing them up.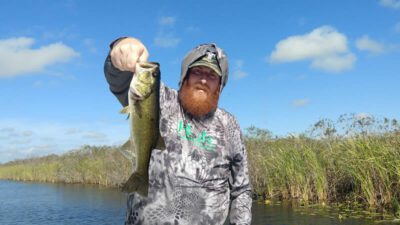 It was a breezy beautiful afternoon. It held at about 83 degrees with a water temperature of 77.
Holiday Park in the Everglades is back in action and better than ever. The bass is biting and fighting hard.
Catch Yours Today with Captain Robert Miley at Holiday Park in the Everglades.
If you enjoyed this post with on fishing Holiday Park in Everglades, you might also enjoy these articles on types of bass, different types of lures, fishing for stripers, what is a panfish, and fishing report from the same area.
Don't forget to follow us on Facebook, YouTube, Twitter, and Instagram
Capt Bob Miley started bass fishing in the Florida Everglades.
On the very first trip out, he caught a 10lb 0/8 o/z largemouth bass and has been fishing for bass ever since. Robert Miley has been fishing professionally on the B.A.S.S. Eastern Division for the past seven years. He also is the Bass Pro Shops Pro Staff representative for South Florida. He is versatile because he fishes for Peacock bass and trophy largemouth on Lake Okeechobee.