February Lake Okeechobee Fishing
February has been a strong month for bass fishing here on Lake Okeechobee. It has been a great start to our season and we are starting to see some big beautiful fish being caught. As the water temperatures constantly change and the moon phases approach, bass are moving into the shallows. This is your prime opportunity to land a big bass right before the spawning process. February Lake Okeechobee Fishing can really provide you with a trip of a lifetime!
This month has been a testament to what is to come in the next several months. Travelers have been coming from across the globe to explore Lake Okeechobee this time of year. Now is the time to land that personal best. Clewiston, FL is the perfect destination to visit in order to make that happen.
One of the key components to getting on this massive Florida lake is a local expert. Whether navigation or knowing what techniques will work best, so many factors come into play when going out fishing. Our job is to cut your experimentation time down and get you on fish faster. Whether with live bait or artificial bait, we can most certainly make this happen for you.
Check out this Florida bass fishing report out of Clewiston, FL to give you a taste of what there is to explore:
Fishing with Captain Mark Shepard: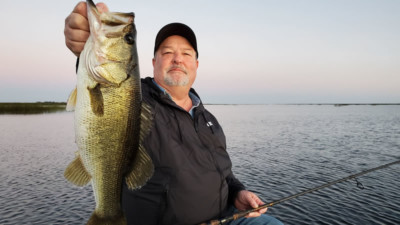 "Lake Okeechobee, especially out of Clewiston is one of my favorite places to fish in Florida. If you are looking for a great time, especially for quality largemouth bass, this is your destination.
I had the pleasure of fishing with Rick and Ricky. They were traveling from Illinois looking to cash in on some Florida bass fishing. While doing so, Lake Okeechobee was on their mind.
It was a wonderful day on the water and we got them dialed in on the action. A quick 4-hour trip was all they needed to help them land some beautiful largemouth bass. Even though it was a slugfest, sometimes the conditions can really make things more difficult than they have to be.
During this time of year, the wind can really start to pick up. Experienced anglers will always find areas that are more protected than others. I found some spots that really helped Rick and Ricky have a lot of fun.
In their quick 4-hour fishing trip, they caught right around 20 largemouth bass. Most of the fish were in the weight range of 3-4 pounds. Most of these fish were males making way for the females to spawn.
In the next several weeks and months, the spawn should pick up. This is the time of year to catch some big bass on Lake Okeechobee. Rick and Ricky enjoyed their father-son time on the water. I am looking forward to getting them on more fish in the near future!" – Capt Mark Shepard
Fishing with Captain Mark Rogers:
"I had the pleasure of fishing with Joe and his wife. They were traveling from New Mexico looking to explore all that Florida had to offer. Lake Okeechobee bass fishing was something they always wanted to do, so we adventured out of Clewiston, FL for a great day on the water.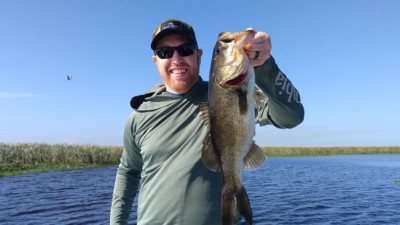 During these prime months to come fishing, wind can most certainly be a factor. The wind slowly picked up throughout the day of fishing. It shut down the fish early but luckily they cashed in on some quality Florida largemouth bass with wild-caught live shiners, the preferred method to catching big bass.
This was their first time being on Lake Okeechobee and they had a fantastic time exploring. For never fishing Lake Okeechobee, catching 25 largemouth bass was a blast. The biggest fish caught on this trip weighed in at 5.5 pounds. Several other fish caught were in the 2-4 pound range.
I really enjoyed showing them around and getting them on some fish. Joe and his wife had a great time and I am looking forward to seeing them back out on the water again soon!" – Capt Mark Rogers
Fishing with Captain Mark Rose:
"It is always good to get Florida natives out on the water especially this time of year. Many locals and travelers know that this is the time to get on some big bass. Lake Okeechobee is starting to really show its true colors.
I had the pleasure of fishing with Ron and his good friend Dave. They were traveling from Fort Myers looking to cash in on some Lake Okeechobee Bass Fishing. Clewiston was the best location to get the job done for them.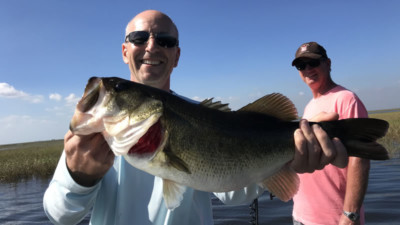 Ron and Dave explored the lake on a sunny afternoon which really had the bass fired up. Great weather is always a tell-tale sign that the bass will be eating strong. These great friends caught over 15 largemouth bass on their fishing trip with live bait.
The biggest fish caught came to the scale weighing 6 pounds. As well, they caught several other fish in the 3-4 pound range. It was non-stop all trip long and they had a blast. I truly love getting people on quality fish.
I am looking forward to getting them back out on the water again soon!" – Capt Mark Rose
Come Visit Clewiston Florida and Catch Yours TODAY!
Lake Okeechobee Bass Fishing has been fantastic and is only going to get better. When traveling to Florida, be sure to hop on board with one of our local experts and catch the fish of a lifetime. Make sure to customize this fishing experience to your needs. Bring the whole family aboard and get everyone addicted to bass fishing here in Florida.
We hope to get the chance to show you more of what this fishery is all about!
If you enjoyed this post about Okeechobee Fishing, you might also enjoy this fishing report from the same area.
Don't forget to follow us on Facebook, YouTube, Twitter and Instagram.