Eager Okeechobee Bass Fishing Charters
Have you heard about Lake Okeechobee? We have fantastic news. The lake is fishing incredibly, and the big bass is biting. Are you looking to get out of the cold and enjoy some Florida sun? Hop on board one of our fishing vessels for a fishing adventure of a lifetime with one of our local experts. Our Eager Okeechobee Bass Fishing Charters will get you around the best fishing possible.
Our local experts are highly knowledgeable about Lake Okeechobee. We have you covered if you want to fish Lake Okeechobee's North or South end. An incredible amount of time on the water has allowed you the focus and determination you are after. If you are hunting for trophy-sized largemouth bass, you must go out with those who put time on the water.
Here is your Lake Okeechobee Bass Fishing Update by our Local Experts:
Captain Brian Brown had the pleasure of fishing with repeat Clients Mark and Mike. While visiting Florida on vacation, bass fishing was a must. They are great friends that love to bass fish on Lake Okeechobee. Okeechobee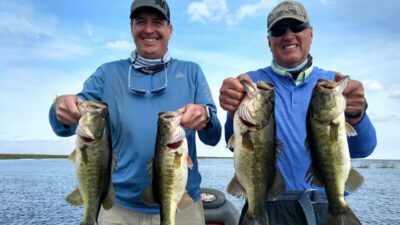 City was the departure destination on this quick 6-hour fishing adventure.
One of the best parts about fishing is seeing Mother Nature in her raw form. Our fishing trip was greeted by a beautiful sunrise and some eager Okeechobee bass fishing. Some days, the bass are ready to bite. Mark and Mike put some quality bass in the boat. The biggest fish weighed up to 4.5 pounds. Nothing beats a day of consistent quality fishing.
Mark and Mike will be back for more action shortly, and Captain Brian is looking forward to getting them on the water!
Shortly after this fishing trip, Captain George Mrozinski had the pleasure of fishing with repeat clients Jim and Mike. They also were great friends looking to experience Lake Okeechobee while on vacation. Jim and Mike spent 8 hours on the water out of Clewiston, FL catching all their largemouth bass on artificial lures.
They had a great day on the water with concrete action from the first cast to the last. Jim and Mike started the day with some early morning topwater action. As that began to slow down as the sun rose, a Gambler Fat Ace appeared. These guys had a blast reeling in 40 bass on artificial baits in their 8-hour fishing trip. The biggest bass weighed in at just under 6 pounds.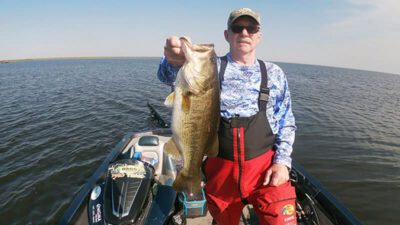 When you are artificial fishing, you can't beat this action. Jim and Mike will be back for more and Captain George are looking forward to the next opportunity.
Not long after this beautiful fishing trip, Captain Robert Alfano adventured out of Okeechobee City, FL. He had the pleasure of fishing with Tony, traveling from Lancaster, Pennsylvania. Tony loves fishing and opted for an artificial fishing trip on the North End of the lake. Captain Rob got him around quality bass fishing, especially with this trip's rapidly changing conditions.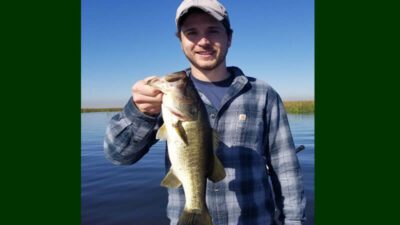 One unfortunate part about Florida is that the weather can change often. Even with changing conditions, Tony managed to land several-quality bass. You have to stay persistent to have success. Tony is looking forward to his next adventure here in Florida, hopefully with some better Florida weather.
Captain Rob is also looking forward to getting Tony back on Lake Okeechobee!
Bass fishing is starting to look good. Lake Okeechobee is alive and well; you should book your fishing trips while they are still available. The largemouth bass is spawning in the shallows making for the perfect opportunity to land that big bass you are after.
We are looking forward to seeing you on the water next time!
Come Visit Florida and Catch Yours Today.
If you enjoyed this post about Okeechobee Fishing, you might also enjoy this fishing report from the same area.
Don't forget to follow us on Facebook, YouTube, Twitter, and Instagram.