Fall Okeechobee Bass Fishing Report
Fall bass fishing is in full effect on Lake Okeechobee. As the months continue to roll on, the bass are beginning to feed as they get ready for their spawning months. The best time to come fishing on Lake Okeechobee is right around the corner and this fishing report is a testament to that. Enjoy some fall Okeechobee bass fishing next time visiting South Florida.
If you are looking to fish on Lake Okeechobee and catch some quality largemouth bass, you have to go out with our local experts. Our local experts put in a lot of time on the water to make your fishing experience something special. It means the world to them to be able to share their passion and put you on fish the whole trip. Captain Dave Lauer is a local expert that has spent years fishing out of the South end of Lake Okeechobee.
Captain Dave had the pleasure of fishing with Aaron, his son Dylan and his Mom and Dad. The boat was loaded but that made for an awesome day of Lake Okeechobee Bass Fishing. Fishing is a great way to bond with your family especially while you are traveling to Florida. They were coming from Chicago and while they were here they wanted to get in the outdoors. There is no better way to do that than some Florida bass fishing.
Lake Okeechobee is really starting to come alive. The bites were strong and steady the whole fishing trip. Conditions were great for fishing with a nice breeze early in the morning. During the afternoon hours, the breeze stopped but that did not stop the bass from biting. Live bait was the most effective method with 4 people on the boat. If you are looking to catch big numbers of quality bass, this is the way to do so!
Aaron, Dylan, Mom and Dad caught over 40 largemouth bass in their quick 6 hour fishing trip. They had 10 plus fish over 4 pounds. You truly can't beat that kind of action when you come out bass fishing here on Lake Okeechobee. The lake will consistently produce great fishing for the rest of the year. Before you know it, the big females will be in and ready to feed as well.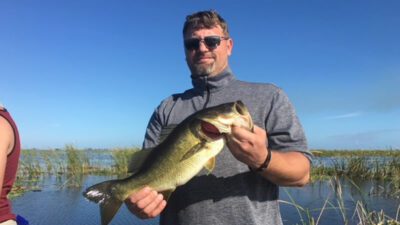 Captain Dave is looking forward to fishing with this wonderful family again in the future. They will be back for more of this awesome fishing action in Belle Glade out of Slims Fish Camp!
Lake Okeechobee Bass Fishing season is right around the corner. Get your travel plans booked as the calendar tends to fill up quick. If you are looking to catch the biggest bass of your life, this is the perfect time to do so. December through April is the prime months to cash in on the action. Our local experts will be on the water waiting for you to hop on board as they guide you to a fishing adventure of a lifetime! We look forward to seeing you soon.
Come Visit Florida and Catch Yours Today..
[fusion_button link="http://bassonline.com/trips/city/belle-glade/" title="BOOK YOUR LAKE OKEECHOBEE FISHING TRIP ONLINE NOW!" target="_self" alignment="center" modal="" hide_on_mobile="small-visibility,medium-visibility,large-visibility" class="" id="" color="default" button_gradient_top_color="" button_gradient_bottom_color="" button_gradient_top_color_hover="" button_gradient_bottom_color_hover="" accent_color="" accent_hover_color="" type="" bevel_color="" border_width="" size="" stretch="default" shape="pill" icon="" icon_position="left" icon_divider="no" animation_type="" animation_direction="left" animation_speed="0.3″ animation_offset=""]BOOK YOUR LAKE OKEECHOBEE FISHING TRIP ONLINE NOW![/fusion_button]
If you enjoyed this post about Okeechobee Fishing, you might also enjoy this fishing report from the same area.
Don't forget to follow us on Facebook, YouTube, Twitter and Instagram.