Central Florida Weekend Fishing
Weekends are the perfect opportunity to get out on the water. If you are looking for a great outdoor activity in Central Florida, the bass fishing has been fantastic. Our travelers and visitors are experiencing great numbers and quality bass all trip long. Bring your family and friends along for a Central Florida weekend fishing adventure you will never forget.
Our local experts spend many hours a day determining the best areas and techniques to catch you the fish of a lifetime. Whether you want to throw artificial or live bait, we can make it happen. Captain John Leech and Captain Steve Niemoeller have been fishing in Central Florida almost their entire life. If you want to catch largemouth bass in this destination, let these guides take you to the honey holes.
Captain John Leech had the pleasure of fishing with Bob Tester. Bob is a repeat client that has been fishing with Captain John for over 10 years. Every time that they adventure out is a great experience as they get to share many years of memories together.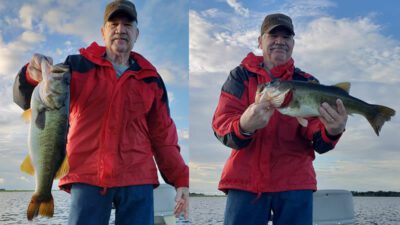 Lake Toho Bass Fishing was on fire this trip. Bob was in search of a giant trophy largemouth bass. Just before this trip took place though, Central Florida was hit with a massive cold front. Temperatures in the water fluctuated causing the bass to eat but not the female Bob was hoping for.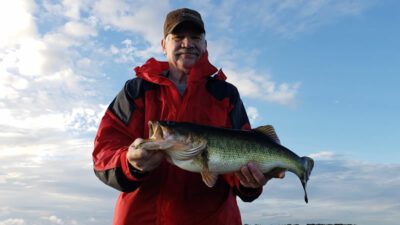 Captain John put Bob on great numbers of largemouth bass. 3 of the bass weighed over 5 pounds. You truly can't beat that action on the water. All the fish were caught with live wild-caught shiners. The next adventure will be redemption for some big bass!
Bob will be back soon for more action on Lake Toho. Captain John always looks forward to it!
Weekend Fishing
Just shortly after this awesome fishing trip, Captain Steve Niemoeller adventured out on Lake Toho. He had the pleasure of fishing with Phil and Gene. They were also longtime repeats of Captain Steve's. While traveling from Wisconsin, they were looking forward to adventuring out and catching largemouth bass.
One of the blessings about fishing with repeats is that you have built a lot of memories together. You get the opportunity to reminisce on all the locations and big bass you've caught together. Phil and Gene wanted to adventure out on Lake Toho on this fishing charter.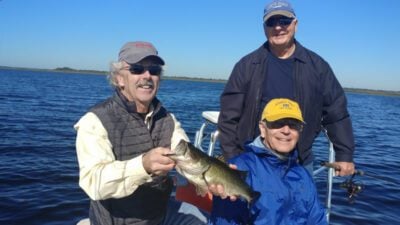 The trip started at 8 am to let the sun warm up and get the bass moving. Phil and Gene landed 20 largemouth bass but nothing bigger than 4 pounds. It is always a blast for Captain Steve to have these gentlemen back on the boat and is looking forward to their fishing adventure right here in Central Florida.
Once that fishing trip ended, Captain Steve had an afternoon fishing charter. He had the pleasure of fishing with Misty and her two sons Jacob and Eli. Bringing and allowing families to experience this beautiful place is another advantage of being a Central Florida fishing captain. They were visiting from Wisconsin for a wedding and had to explore what Orlando had to offer.
Another major advantage to being a fishing captain is the ability to share Florida Fishing with visitors for the first time. Misty, Jacob, and Eli explored Florida Bass Fishing for the first time with artificial and live baits. Misty caught her first fish ever and the boys caught their first Florida bass.
Second to None at Times
Everyone had a fantastic time on the water making memories that will last forever. Next time they visit Florida, bass fishing will be in the back of their minds. Captain Steve is looking forward to showing them around Central Florida on their next fishing adventure!
Bass fishing is starting to pick up strong. Conditions are lining up for a strong season. Spawning bass are moving into shallow water. If you are looking for trophy bass, the next couple of months will be the best time. Bring your families along for a fishing adventure of a lifetime right here in Central Florida. We look forward to seeing you on the water next time in Kissimmee, FL!
Come Experience Kissimmee and Catch Yours Today.
If you enjoyed this post, you might also enjoy this fishing report from the same area.
Don't forget to follow us on Facebook, YouTube, Twitter, and Instagram.

About Captain Steve Niemoeller is a full-time Professional fishing guide and Licensed Master Captain. Primarily servicing the freshwater lakes of the St Johns River, Lake George, and Lake Monroe. He also guides on Harris Chain and Lake Toho. He also has great success on Ponce Inlet and Mosquito Lagoon in saltwater catching Redfish and other species. Learn more at Central Florida Fishing

About Captain John Leech is a full-time guide for over 20 years in Central Florida. He specializes in Central Florida bass fishing and is one of the best at targeting big trophy size large-mouth bass in the Orlando area. His first guide trip was in Leesburg, Florida on the Harris Chain of Lakes. By 1983 I was fortunate to be able to do the one thing I loved the most FISH and make a living doing it. That is what I call a dream job Central Florida Bass Fishing Guide no doubt that fishing in Orlando is one of the best in the world.