Kids Florida Fishing Charters
Have you ever wondered what the best way to help your child experience the outdoors? Peacock bass fishing in Miami is most certainly a great way to get outside with your son or daughter here in South Florida. Kids Florida Fishing Charters are some of the best especially when the bite is strong.
These summer months have been really productive for freshwater fishing. Miami, Florida is by far the best location to get your line wet. When you are thinking about fishing, make sure you keep this destination in mind. Peacock bass are extremely fun to catch especially with their hard fights and action. Captain Robert Miley is our local expert that will guide you how and where to fish in South Florida.
Captain Miley had the pleasure of fishing with Joshua, his father Carl, brother Kyle and Kyle's young son Keenan. They were in-store for an awesome afternoon of fishing in South Florida for peacock bass. Conditions were just right for the action to be steady and the bite to be really strong. The bite was so good, they ran out of bait in 3 hours.
Fishing is Fishing and it is very easy to forget that. Joshua and his family caught a lot of bass but also broke off on some of them. It is all part of the game. They saw some big number along with some big bass. The biggest bass weighed 5.5 pounds. Captain Miley had a blast fishing with this group from Texas.
It is always a special moment when you see young kids catch fish. You know it is the start to a lifelong journey of fishing. Captain Miley is looking forward to fishing with these guys again in the future!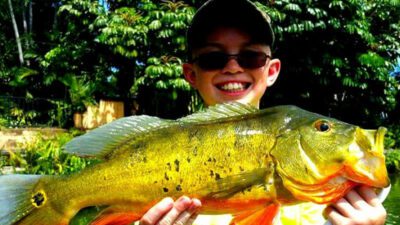 Just shortly after this amazing fishing trip, Captain Miley explored the Falls Canal System again. This time Mike and his 10 year old son Jillian were looking to land their first peacock bass. Peacock Bass Fishing will blow you away if you never been out for them before. There strength and power is incredible especially when you catch them on artificial baits.
Jillian caught his first peacock bass ever on a top water bait. Mike also caught his first on a jerk bait. The bass hit these baits like a freight train and the action was awesome to experience for them. It was a quick 4 hour fishing trip with 10 peacock bass in the boat.
Temperatures are getting hot but that's what the peacock bass like. These exotic bass get more active when the water temperatures rise.
Be patient when fishing for peacock bass and don't be afraid to switch to live bait when the artificial bite slows down. Captain Miley is looking forward to another outstanding day on the water with this father son duo.
As the summer months come to an end, don't miss out on the early Fall bite. Peacock bass begin to spawn bring around aggressive males and big females. You can really enjoy a day on the water while catching quality peacock bass next time you are visiting Miami!
Come Visit Florida and Catch Yours Today
 
[fusion_button link="http://bassonline.com/trips/city/miami/falls-system/" title="BOOK YOUR FALLS FISHING TRIP ONLINE NOW!" target="_self" alignment="center" modal="" hide_on_mobile="small-visibility,medium-visibility,large-visibility" class="" id="" color="default" button_gradient_top_color="" button_gradient_bottom_color="" button_gradient_top_color_hover="" button_gradient_bottom_color_hover="" accent_color="" accent_hover_color="" type="" bevel_color="" border_width="" size="" stretch="default" shape="pill" icon="" icon_position="left" icon_divider="no" animation_type="" animation_direction="left" animation_speed="0.3″ animation_offset=""]BOOK YOUR FALLS FISHING TRIP ONLINE NOW![/fusion_button]
 
If you enjoyed this post about Kids Florida Fishing Charters, you might also enjoy this fishing report from the same area.
Don't forget to follow us on Facebook, YouTube, Twitter and Instagram.