Trophy Okeechobee Bass Charter
Have you fished on Lake Okeechobee recently? The bass are biting and now is a great time for an adventure. Cooler water temperatures are promoting excellent fishing conditions. The season is here and largemouth bass has begun their spawn. If you are looking to catch trophy bass, now is the time! Explore a Trophy Okeechobee bass charter on your next visit.
Lake Okeechobee is a beautiful lake that is highly deceiving. You would expect that every inch of this lake holds quality largemouth bass. Unfortunately, this is not the case. When you are looking to experience Lake Okeechobee, you have to adventure out with a local expert. Our local experts have spent many days on the water making sure that you will be put on fish all trip long.
Captain Brian Brown is a true expert that can help you explore this massive and breath-taking destination. Captain Brian had the pleasure of fishing with longtime friend and client, Ron Powers. Ron loves to fish which makes the day on the water much sweeter, according to Captain Brian.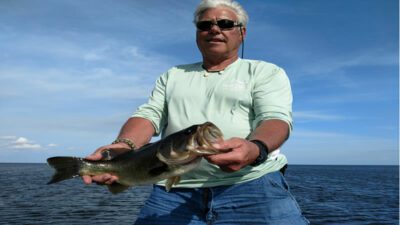 The morning bite was strong on this fishing trip. Captain Brian adventured out with Ron out of the Harney Pond area near Okeechobee City, which is on the west side of the lake. The fog was thick early in the morning which made for an interesting ride out. When conditions are like this, you have to be careful when cruising out on the lake.
Ron had a fantastic time fishing. He caught almost everything that swam. The gar, pickerel, mudfish, catfish, and bass all put up a fun fight. Ron loves just catching fish. There is no stress to find that absolute giant that everyone knows this lake can produce. If and when it happens, it will!
Ron will be back for more incredible fishing on Lake Okeechobee in the near future!!
Just shortly after this awesome fishing adventure, Captain Brian adventured back out for a three-day fishing trip. This time, he had the pleasure of fishing with Paul. Paul was traveling from Massachusetts on the backside of a full moon, which promoted an exceptional experience on the water.
Captain Brian focused on the west side of the lake yet again on all three days. Colder weather rolled in on this fishing trip but Paul was patient and knew that this was his time to shine. Patience is key when you are looking to catch the biggest bass of your life.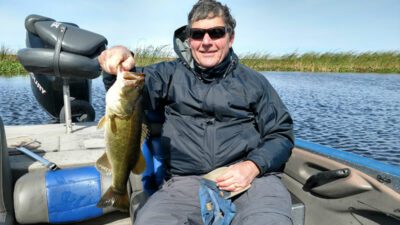 Wild caught is another important part of this trip. If you are searching for a trophy, make sure to look into using live bait. While searching, enjoy catches of any and all size fish. They will keep you busy until its game time.
The first and second days were slower than normal. Afternoon fishing was much better once the sun was high in the sky. The third day brought about much different conditions. Warm sunshine and clear skies brought the bass to the surface to feed.
Before you know it, your bait gets sucked down and the line on your spool is peeling off. Paul set the hook hard and knew that something big was on the line. His bass surfaced and Paul lit up like I have never seen. He knew he had on the biggest bass of his life. Once in, Captain Brian put it on the scale and it weighed a whopping 8 pounds 4 ounces.
When you help a man catch the fish of their dreams, it is always a pleasure. Paul will be back for more of this action. He is looking forward to bringing back his grandson, according to Captain Brian.
Lake Okeechobee is looking absolutely fantastic. The bass are alive and well, just like the rest of the lake. Don't miss out on your adventure on Lake Okeechobee on your next visit. You will not regret this adventure exploring this world-renown fishery. We look forward to showing you what Lake Okeechobee Bass Fishing is all about.
Come Visit Florida and Catch Yours Today..
If you enjoyed this post about Okeechobee Fishing, you might also enjoy this fishing report from the same area.
Don't forget to follow us on Facebook, YouTube, Twitter and Instagram.

About Capt Brian Brown is a full-time bass fishing guide, he is also your go to Crappie fishing guide on Lake Okeechobee. With over 20yrs of experience Brian can help you understand the movements of fish, understand how to read your electronics. As well as helping you choose the proper tackle to use for your next fishing trip. So if you are ready for a fun day on the water with great fishing tips thrown in, Capt Brian could be the guy for you.