Trophy Miami Bass Fishing
Every time you visit Miami, FL or South Florida, you should strive to adventure out and do something unique. If you love the smell of fresh air and the sun beating on your skin, water activities may be the best bet. Our outdoor adventures can be perfect for the solo angler, family, or friends. Hop on board and enjoy some trophy Miami bass fishing with our local experts.
One of the advantages of fishing with us here at Bass Online is that you are guaranteed a great time. Miami, FL is home to some of the best bass fishing but you have to know the waters. Our local experts have spent a lot of quality time making sure that when you come fish down here, you will be on big fish all trip long. Captain Robert Miley is your local fishing expert here in Miami, FL.
Captain Miley had the pleasure of fishing with Mark on the Miami Airport Lakes. Mark was visiting on work. He is a simulator instructor that was in search for some GIANT bass on his day off. If you are in search of large exotics, Miami is the place to go. Everything was lining up for an incredible day on the water.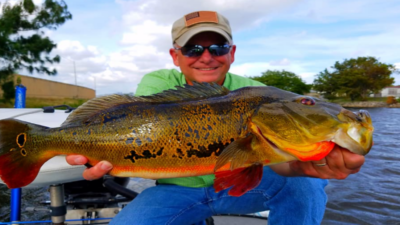 Mark sat back and enjoyed his quick 4-hour fishing trip. Even though he was relaxing, this trip was jammed packed filled with action. Mark caught 20 nice peacock bass at the first several spots. The biggest bass weighed 3 pounds. Mark was down here for a big one so Captain Miley made a move to his big fish hole.
When they arrived, it was game on. It was coming down to the last minutes of their trip and Mark got a big bite. The line was running and the drag was screaming. After an awesome fight, Mark pulls in a 6.5-pound peacock bass. That is what you call a trophy bass, especially for Florida peacocks. Just shortly after that, he also boated a 5 and 4 pounder. There is no better way to end a fishing day than like that! Live bait is the key when it comes to bass fishing here in Florida.
Mark was ecstatic about his fishing trip and experience. He will be back for more of this awesome action. Captain Miley is looking forward to putting them on some more big bass in the future!
Just shortly after this outstanding fishing adventure, Captain Miley adventured back out on Airport Lakes. This time, he had the pleasure of fishing with Treva and her significant other. Treva is Captain Miley's brothers' niece. They were really excited to get on the water knowing the potential outcomes.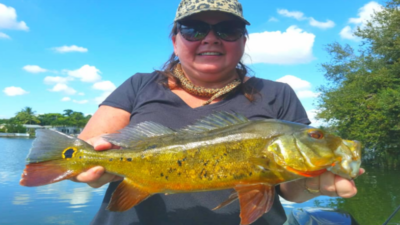 According to Captain Miley, fishing is always a great way to spend time on the water with your family. It was a beautiful and warm day for this couple. They enjoyed catching over 15 peacock bass up to 4 pounds. Fishing these lakes provide a change of scenery when you are looking to visit and do something different.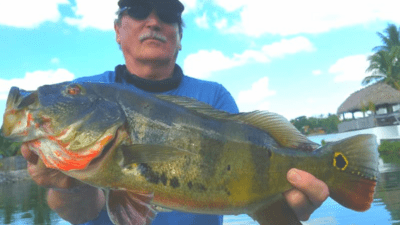 Captain Miley is looking forward to their next adventure!
Don't miss out on your trophy exotic peacock fishing experience. You will not regret the decision to bring your family or friends on an outdoor fishing trip. Miami, FL is the best location to do so. The action is non-stop and waiting for you. We look forward to seeing you on the water next time!
Come Visit Florida and Catch Yours Today
[fusion_button link="http://bassonline.com/trips/city/miami/airport-lakes/" title="BOOK YOUR AIRPORT LAKE FISHING TRIP ONLINE NOW!" target="_self" alignment="center" modal="" hide_on_mobile="small-visibility,medium-visibility,large-visibility" class="" id="" color="default" button_gradient_top_color="" button_gradient_bottom_color="" button_gradient_top_color_hover="" button_gradient_bottom_color_hover="" accent_color="" accent_hover_color="" type="" bevel_color="" border_width="" size="" stretch="default" shape="pill" icon="" icon_position="left" icon_divider="no" animation_type="" animation_direction="left" animation_speed="0.3″ animation_offset=""]BOOK YOUR AIRPORT LAKE FISHING TRIP ONLINE NOW![/fusion_button]
If you enjoyed this post about South Florida Fishing, you might also enjoy this fishing report from the same area.
Don't forget to follow us on Facebook, YouTube, Twitter and Instagram.
Learn More about Florida Peacock Bass Fishing
[fusion_text]

About Capt Robert Miley started bass fishing in the Florida Everglades.
The very first trip out he caught a 10lb 0/8 o/z largemouth bass, and has been fishing for bass ever since. Robert Miley has been fishing professionally on the B.A.S.S. Eastern Division, for the past 7 years. He also is the Bass Pro Shops Pro Staff representative for South Florida. Versatile in that he fishes for Peacock bass as well as trophy largemouth on Lake Okeechobee.
[/fusion_text]