Summer Orlando Fishing Trips
Many ask "can I go bass fishing near downtown Orlando?" The answer to that question is YES! Summer Orlando Fishing Trips have been by far one of the most productive outdoor activities that you can partake in when traveling to Florida. Central Florida is home to an abundance of lakes that produce an excellent bite.
One of the dominant lakes here in Orlando is the Butler Chain of Lakes. You can travel just a short way from your hotel and get on the beautiful waters of this Chain of Lakes. Whether you are just looking to get outside, check out the incredible wildlife, fish behind beautiful homes and most importantly catch big bass, Orlando bass Fishing is where it is at.
Captain Steve Niemoeller and Brent Nelson are our local experts that have been fishing this lake for years. They will work effortlessly to put the best fish in the boat. While you are on the boat you will be able to explore anything your heart desires. Don't forget to bring the family along on this amazing fishing trip.
Captain Steve Niemoeller had the pleasure of fishing with Shawn this summer. They adventured out on the Butler Chain looking to catch some big bass. Shawn is a repeat client that loves to come fishing here in Central Florida. Every time he comes down on vacation he gets out for a couple days on the water.
One of the blessings of being a Captain is the ability to share endless memories with your clients. Shawn and Captain Steve always have a great time together and have been fishing for a long time. It was the perfect time to come catch bass on the Butler Chain of Lakes.
Shawn landed great numbers of Florida largemouth bass. Orlando produced for him on these fishing trips. Shawn caught over 50 bass in his two days out on the water. Multiple chain pickerel also made it to the boat. Wild caught live shiners were the most effective baits to catch these bass. You have to worm fish them at 18 feet. Most of these bass are schooling and once you fire one up you can fire the rest of them up!
Captain Steve is looking forward to another amazing adventure in Central Florida with Shawn. They had a great time catching bass.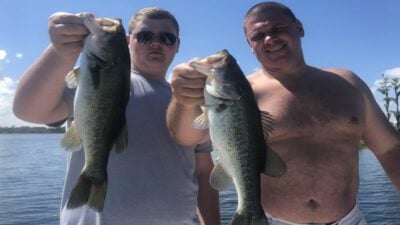 It was not long after this fishing trip that Captain Brent Nelson got out on the water. Jason and his son JT came out for an adventure here in Central Florida. Orlando came through for them as well with some excellent bass fishing on the Butler Chain of Lakes.
Captain Brent took a different approach on this fishing trip. On this quick 4 hour fishing trip, Jason and JT trolled and freelined wild shiners over grass beds on the main lake. They landed great numbers with bass up to 5 pounds! Summer time brings in big schools of bass that are looking for a tasty snack. You can have a lot of fun this time of year catching them on top water baits as well.
Jason and JT are looking forward to their next Central Florida fishing adventure!!
Don't miss out on the action down here in Orlando. Summer Orlando Fishing Trips can really create memories of a lifetime for you and your family. Get some sun and experience all that Central Florida has to offer you next time you are down here on vacation. We look forward to seeing you on our next fishing adventure!!
Come Visit Orlando and Catch Yours Today…
[fusion_button link="http://bassonline.com/trips/city/orlando/butler-chain/" title="BOOK YOUR BUTLER CHAIN OF LAKES FISHING TRIP ONLINE NOW!" target="_self" alignment="center" modal="" hide_on_mobile="small-visibility,medium-visibility,large-visibility" class="" id="" color="default" button_gradient_top_color="" button_gradient_bottom_color="" button_gradient_top_color_hover="" button_gradient_bottom_color_hover="" accent_color="" accent_hover_color="" type="" bevel_color="" border_width="" size="" stretch="default" shape="pill" icon="" icon_position="left" icon_divider="no" animation_type="" animation_direction="left" animation_speed="0.3″ animation_offset=""] BOOK YOUR BUTLER CHAIN OF LAKES FISHING TRIP ONLINE NOW![/fusion_button]
If you enjoyed this post, you might also enjoy this fishing report from the same area.
Don't forget to follow us on Facebook, YouTube, Twitter and Instagram.
Discover More Orlando Bass Fishing.