Southwest Florida Freshwater Fishing
One of Southwest Florida freshwater fishing strongholds appears to be on the rebound after several anglers posted quick limits of large crappie on Immokalee's Lake Trafford. Higher water levels and colder temperatures have driven the fish into feeding mode, marina manager Sharon Rodgers said.
"It's excellent," Rodgers said. "They're catching a lot of crappie on minnows and jigs. Ski (Oleski, marina owner) said some of the biggest specs caught were this weekend."
Coastal fishing for snook, reds, and tarpon is king in this region as the fishing can be fantastic in estuaries, bays, and natural beaches. Few freshwater fisheries in this area will accommodate a powerboat. So largemouth bass, crappie, and bream fishing are not as popular here as in the Central Florida region of Lake Okeechobee.
Lake Trafford, however, is world-class at times, particularly for the quantity and quality of black crappie. These schooling fish, also called specks, aren't the strongest fighters. Even for freshwater species, they're excellent table fare. Rodgers said crappie are taking live minnows and artificial lures.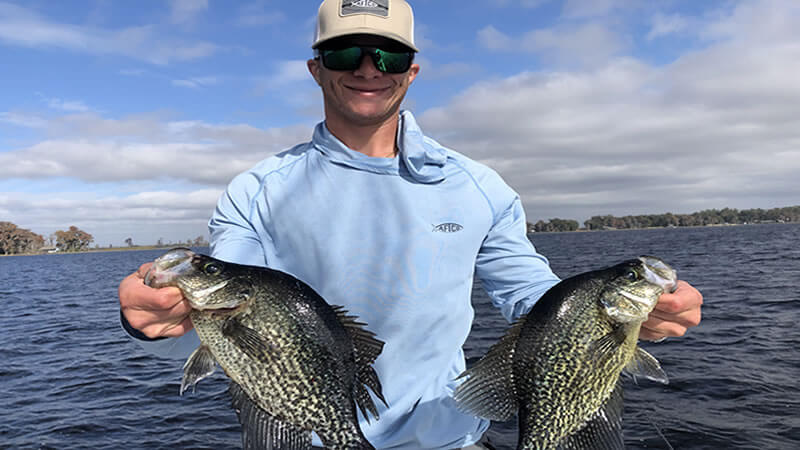 Such a Special Fish
Crappie is also a great species to target on family outings as big numbers can be found. There may also be the occasional largemouth, bluegill (I caught one the size of a paper picnic plate fishing from land with a cane pole), and catfish as bycatches. The next full moon happens on Dec. 17, and Rodgers expects the Southwest Florida freshwater fishing will be better then than it is now.
"Three days before and three days after the fishing will be really good," Rodgers said.
The largest natural freshwater lake south of Lake Okeechobee. Trafford is 1,600 acres and fed mostly by rainwater and run-off from nearby lands. Water from the lake flows to the south and west, and Trafford acts as headwaters for Corkscrew Swamp. It drains into the Imperial River in Bonita Springs and the Cocohatchee River in North Naples.
The lake died off in 1996, and the fishery crashed along with water conditions. The remains of decades of invasive plant decay formed a layer of muck on the lake bottom that was 5 feet deep in places. A $21.4 million restoration project removed more than 6 million cubic yards of muck from the bottom and piped it to a nearby field.