September Toho Bass Fishing
Do you love spending time with your family and loved ones in the outdoors? If so, Lake Toho in Kissimmee, FL is an excellent place to explore and visit. When traveling to Central Florida on a family vacation, don't overlook the bass fishing possibilities. Our local experts have years of experience that has led them to help you get on the fish of a lifetime. Hop on board for some September Toho Bass Fishing on your next visit to Central Florida.
One of the keys to having success on this big lake is a local expert. They will take you right to the fish and the spots that help you catch the biggest fish possible. If you love to stay busy and catch fish, a local expert is a way to go. Captain Brent Nelson or Captain Devin Dickerson has a lot of experience with all ages and levels of angling that can help get you on the fish!
Check out this Lake Toho Bass Fishing Update with our local experts:
Captain Brent Nelson had the pleasure of fishing with John and his buddy Chris. They were traveling from Georgia to Kissimmee to catch largemouth bass. During these late summer months,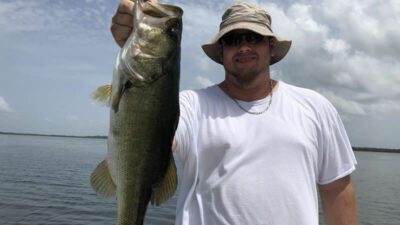 especially when we are experiencing storms, water management tends to move water through the chain of lakes. As a result, the main focus was moving water over submerged hydrilla.
John and Chris had fun catching fish but not the number they were hoping for. They did manage to catch 5-pound largemouth bass on a swim jig. Also, they caught several other fish on speed worms. Live bait came into play as well on this fishing trip. Always awesome to catch largemouth with every method possible.
Captain Brent is looking forward to fishing with John and Chris again in the near future!
It was not long after this fishing trip that Captain Devin Dickerson was out Lake Toho Bass Fishing. He had the pleasure of fishing with John and his family. They were traveling all the way from California on a family vacation looking to explore the outdoors. The best way to get your whole family on a fishing charter in Central Florida is on the pontoon boat.
Our pontoon boat tours and charters is a great way to explore Lake Toho. You get to sit back with comfortable seating and room while reeling in fish all trip long. Captain Devin put John and his family on some great fishing. John's wife caught a beautiful Florida largemouth bass weighing in at 5 pounds. The excitement that ran across her face makes the trip all so worth it. Catching big fish can be exhilarating.
Great mornings consist of wind in your hair, family time, and Florida bass fishing. John and his family had a wonderful time on Lake Toho with Captain Devin. It is trips like this that truly make the difference. Captain Devin is looking forward to getting back out on the water with this lovely family again on their next visit!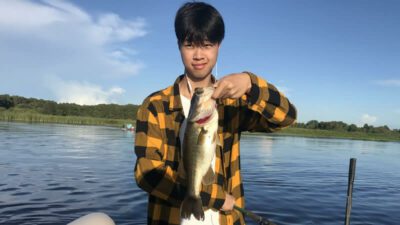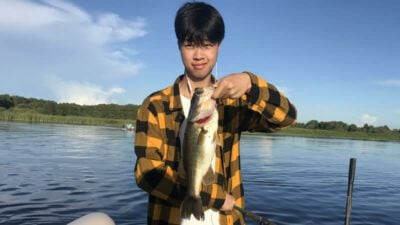 If there is one thing for certain, Florida bass fishing is on fire. When planning your next vacation, we urge you to consider an outdoor adventure. Now is the time to come explore and catch some quality fish. Don't miss out on your adventure on your next trip. We hope to see you on the water netting the biggest fish of your life. Bring your friends and family along for a fishing adventure worth remembering!
Come Experience Kissimmee and Catch Yours Today…
[fusion_button link="http://bassonline.com/trips/city/kissimmee/lake-toho/" title="BOOK YOUR LAKE TOHO FISHING TRIP ONLINE NOW!" target="_self" alignment="center" modal="" hide_on_mobile="small-visibility,medium-visibility,large-visibility" class="" id="" color="default" button_gradient_top_color="" button_gradient_bottom_color="" button_gradient_top_color_hover="" button_gradient_bottom_color_hover="" accent_color="" accent_hover_color="" type="" bevel_color="" border_width="" size="" stretch="default" shape="pill" icon="" icon_position="left" icon_divider="no" animation_type="" animation_direction="left" animation_speed="0.3″ animation_offset=""]BOOK YOUR LAKE TOHO FISHING TRIP ONLINE NOW![/fusion_button]
If you enjoyed this post, you might also enjoy this fishing report from the same area.
Don't forget to follow us on Facebook, YouTube, Twitter and Instagram.