Crooked Lake is located five miles south of Lake Wales off U.S. 27, with plentiful good largemouth bass and bluegill fishing. This area of Florida has many thousand acres of deep, clear water that awaits you and many other things to do.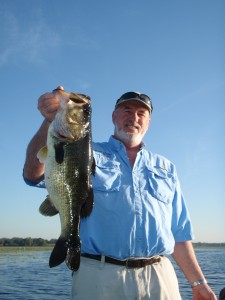 About Crooked Lake
Crooked Lake is a public lake in Polk County in the state of Florida. The latitude and longitude coordinates for this lake are 27.8170, -81.5831, and the altitude is 118 feet (36 meters). You can find Crooked Lake on the Babson Park USGS quad topo map.
As it is now known, Lake Caloosa or Crooked Lake is hidden away in Polk County in Florida and is over 7,000 acres in size. It's been listed on the top 10 most successful Florida fisheries due to water quality and natural beauty. Crooked lake has a 60-foot deep spring as well as six other independent springs. A good portion of the lake contains water 30 feet deep, perfect habitat for monster bass.
With more than 550 freshwater lakes in Central Florida and numerous rivers, phosphate pits, and natural lakes, you'll catch many varieties of sweet-tasting freshwater fish here as well. 
Crooked Lake Fishing
Anyone interested in fishing Crooked Lake should consult with local guides and resources before heading out to fish. 
The perimeters of vegetation and brush around the lake make excellent cover and habitat for largemouth bass. Anglers from around the world and locals catch so many trophy bass fishing in Florida that it earned the title "Bass Capital of the World." Because of great lakes like Crooked Lake, Florida can live up to this title. 
Casting a lure into the water, with the possibilities of reeling in the biggest trophy largemouth bass you've ever seen, this is what Crooked Lake offers. Why the perimeters of the lake offer opportunity, so do the deepwater access and strategically located brush piles that make excellent open water cover and habitat for largemouth bass.
Recorded catches of 10 fish over 5 lbs kind of days happen on Crooked Lake. Caloosa has produced several trophy bass over 16 lbs in recent years.
Why Crooked Lake is known for the excellent largemouth fishing, it also has excellent Bluegill (bream), Crappie (speckled perch), and catfish fishing that's available in these waters.
History of Crooked Lake
The earliest maps of the Crooked Lake area have the lake listed as Lake Okhakonkonhee. The first map with Crooked Lake, as we currently know, was published in 1888.
The northern and eastern shores of Crooked Lake have a steep rise in altitude, in some locations more than 180 feet above the lake. The lowland banks are the southern and western shores. 
Since the 1920s, property owners and special interest groups have fought about the lake's southern end widened and deepened. Also spent years fighting over building obstruction to stop water flow, rumored to be made and taken down multiple times in the last century.
Local Fishing Guide
If visiting this location, consider an experienced full-time guide to have real success. Even if hiring a fishing guide is not in your cards, it would be justifiable to consult with a local before heading out to fish.
If you would like to consider booking a fishing trip or get up to date on the lake fishing conditions, contact us here. We are always doing our very best to provide everything you will need.
Boat Ramp
A public boat ramp is located one mile off U.S. 27 on S.R. 630-A at Keene Park Road; refer to the map below for directions.
Summary
We hope you enjoy exploring the entire website. It is primarily about fishing for bass, but has great information on bluegill, crappie, snakehead, peacock bass, and catfish throughout Florida.
Family Time
★★★★★
"
My son, two grandsons, and I normally fish Crooked lake and catch very little. This year I hired Captain Bill to show us around and boy did he. We caught more fish than we had in the last 5 years, it was worth every cent for my family.
"
CLICK HERE TO WRITE A LAKE REVIEW