Blackwater River In Florida
 Florida's Blackwater River is a 56.6-mile-long river that flows from southern Alabama to the Florida panhandle into the Gulf of Mexico. The Blackwater River enters Florida in Okaloosa County then flows through Santa Rosa County into Blackwater Bay, which is part of Pensacola Bay.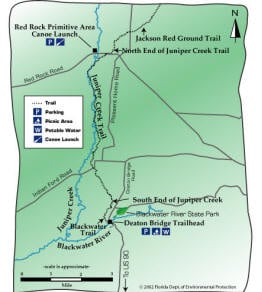 The Blackwater River, called Oka-lusa initially, meaning water black in the Muscogee language, is a beautiful transparent golden-brown colored river when viewed against the white sandy bottom, despite its name. In fact, it's considered one of the most pristine and purest sand-bottom rivers in the world.
Northwest Florida is charming and one of the best places to get a taste of the natural Florida environment. Visitors can experience incredible fishing for both fresh and saltwater fish species as well as view some rare wildlife in Blackwater State Park.
Blackwater River Fishing
The Blackwater River offers excellent angling opportunities for some of the most popular game and panfish species, such as largemouth bass, striped bass, spotted bass, bluegill, redear sunfish, sunshine bass, and channel catfish. In addition, anglers fishing in the lower part of the river are also likely to come across popular saltwater fish such as seatrout and redfish.
The upper river is more dependent on water levels. When the water level is higher, this area is more challenging to fish. For those without a vessel, there are numerous canoe outfitters, such as Blackwater Canoe Rental, located near the watershed, that provide shuttling services for launch and pickup.
In addition to bream and bass, the lower river also harbors other sport fish such as warmouth, spotted sunfish, seatrout, redfish, croaker, and mullet.
Bank fishing opportunities at the Blackwater River are mainly limited to bridge crossings such as Bryant Bridge, canoe access areas, and public boat ramps. All areas mentioned by water or shoreline require a Florida Fishing license to fish with a rod and reel combo.
Best Time
Excellent largemouth bass fishing is anticipated for the lower Blackwater River from January through March. Overall, bass fishing should pick up dramatically toward the middle of March, with the onset of warmer weather and the beginning of the spawning season. 
Bream fishing may be a bit slow this time of the year, but it should also pick up at the end of March. If you are fishing in the tidal section of the river, try to catch a falling tide for the best results. The winter season is an excellent time to fish for seatrout around the mouth of the river.
Spawning fish can be found around Spring time near cypress and large woody debris areas. The full moon in May and June is an excellent time to catch sunfish.
Baits and Lures
Effective baits for bass include plastic worms and any spinner-type lure. Live mullet make good bait for seatrout. Bass jigs, worms, and crankbaits are often most effective for spawning fish.
Boat Ramps
Good access to the lower river is provided by boat ramps in Milton (Carpenters Park, north of downtown Milton, just off Highway 191, and also a new double-lane boat ramp just north of Highway 90, on the east side of the river opposite downtown Milton) and Bagdad (improved landing east of downtown Bagdad, off Highway 191).
Boater Caution
Anglers fishing in the Blackwater River should use caution and be aware of submerged objects and downed trees that resulted from Hurricane Ivan. Such underwater obstacles may occur in places that were unobstructed last summer.
Striped Bass
Striped bass in these rivers was stocked by the Florida Fish and Wildlife Conservation Commission to create a trophy fishery and re-establish this species in an area from which they had virtually disappeared.
Striper Fishing
Striper fishing will also be available during winter and early spring cooler days. Florida Fish and Wildlife Conservation Commission fishery biologists anticipate good fishing for stripers. Appropriate places to fish for stripers from January through March include the lower river, from the Navy Recreation Area down to the Interstate 10 bridge near Milton.
Tips and Baits
Dawn and dusk are prime times for striper fishing, and anglers should still try to catch a falling tide for best success.
In the lower, tidal section of the river, you should fish around points of land extending into the river. Live mullet or menhaden make good baits. Anglers should also try plugs that resemble shad or mullet, such as Bangolures and Yo-Zuri lures. Live shrimp or twister-tail-type jigs are also appropriate.
Blackwater River State Forest
Most of the Blackwater River flows through undeveloped lands of the Blackwater River State Park and the Blackwater State Forest. These areas are core parts of the largest contiguous wiregrass/longleaf pine ecosystem remaining in the world. Some describe this ecosystem as being rarer than a tropical rainforest.
The water that seeps from the Blackwater River State Forest is as pure as it comes. It's merely tinted with the tannins from roots and leaves of shoreline vegetation.
Blackwater River State Park
Blackwater River offers opportunities for a variety of outdoor recreation. The river is one of the purest sand-bottom rivers in the nation, making this park a popular place for swimming, fishing, camping, and paddling. Shaded campsites are just a short walk from the river, and visitors can enjoy a picnic at a pavilion overlooking the river.
Nature enthusiasts will enjoy strolling along trails through undisturbed natural communities. In 1980 the park was certified as a Registered State Natural Feature for possessing exceptional value in illustrating the natural history of Florida.
Atlantic white cedars line the river, and one of them was recognized in 1982 as a Florida Champion tree, one of the largest and oldest of its species, located 15 miles northeast of Milton, off U.S. 90.
Florida state parks are open from 8 a.m. until sundown 365 days a year.
Driving Directions
Heading East on I-10 exit 31 (Hwy 87N), 1/2 mile, right turn on Hwy 90E, 7 miles to the town of Harold, Left turn onto Deaton Bridge Road, 3 miles to the main gate. Heading West on I-10 exit 45 in the city of Holt (blinking light). Left turn onto Hwy 90, Approximately 15 miles to the town of Harold, right turn on Deaton Bridge Road, 3 miles to the main gate.
Admission Fee 
Honor Park $3.00 per vehicle
Pedestrians, Bicyclists, Extra Passengers, Passengers In vehicles with the holder of Annual Individual Entrance Permit Entrance Fee $1.00
Blackwater River State Park Info
7720 Deaton Bridge Road
Holt, Florida 32564
Phone: 850-983-5363
Fax: 850-983-5364