February Winter Haven Fishing
The Winter Haven Chain of Lakes is an intricate fishery known for its exceptional bass fishing. Every trip is a true adventure as you meander through the lake and canal systems in search of quality largemouth bass. Largemouth bass fishing in Central Florida is a great way to get outdoors and enjoy a day on the water. Bring your families and friends out for a fishing adventure you will surely not forget. February Winter Haven Fishing has been fantastic and a must-experience when looking to explore more of what Florida has to offer.
February is an exciting time to come fishing here in Florida. Cold fronts and warm weather have the fish in all different stages. During this month, you can witness fish pulling up to the shallows to start one of their many spawns. Male fish prepare the beds for the larger females to pull up on. Cold fronts that roll in will affect the spawning process.
One of the most important aspects of having a successful day of fishing on the Winter Haven Chain of Lakes is being a local expert. Captain Bill Goudy Jr. can show you around this beautiful chain of lakes, getting you on quality bass all trip long. Enjoy reeling in fish around some big waterfront homes. This place will amaze you with the endless exploring you can do.
Check out this February Winter Haven Fishing Report: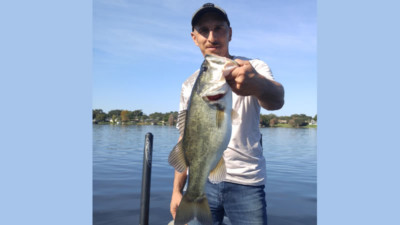 "Cold fronts made the fishing more challenging than usual on this trip. Luckily, I was able to adjust some tactics to make it happen. One of the best parts about being a fishing captain is the challenges you have to face daily. When you overcome them, you have the greatest joy!
I had the pleasure of fishing with Jose, who was traveling from Illinois on vacation. While doing so, Florida bass fishing was an activity he was interested in exploring. Staying near Lakeland, he had several choices, but the Winter Haven Chain appealed to him the most.
The bite may have been slower than normal, but we caught several-quality largemouth bass. Jose caught over ten largemouths on this fishing trip, with the biggest weighing in at 5 pounds. It happened to be his personal best. Nothing like fishing in tough conditions and still pulling out a personal best. It was a trip he would not forget!
Sunny, Calm, and Breezy conditions did help stir up some activity for Jose. Wild-caught shiners were the most effective method to land bass on this tough day. Jose will be back for more action, and I look forward to getting him back out on the water!"
Not long after this fishing trip, the conditions changed, and some bigger bass started to roll in!
"This trip, I had the pleasure of fishing with Tom, who was traveling from Pennsylvania. He wanted to escape the cold weather and soak up some Florida sun. While doing so, I helped him get on some quality Florida largemouth bass on the Winter Haven Chain of Lakes.
Sunny and calm fishing conditions got the bass fired up. On his quick fishing trip, Tom enjoyed every moment of reeling in over ten largemouth bass. Wild-caught live shiners were yet again the best method to land all his fish during this time of year. If you want to catch quality largemouth bass, live bait is the best way to do so.
Tom caught his personal best bass on this fishing trip. This weighed in at 6 pounds. He also caught a beautiful 5-pound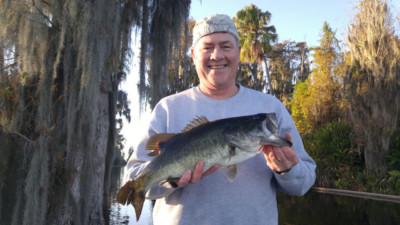 bass as well. You can't beat the action, and it will only continue to get better. Big bass is rolling in as the weather begins to stabilize.
Tom had a fantastic time exploring the Winter Haven Chain. I am looking forward to getting him back out on the water!" – Captain Bill Goudy Jr.
Now is the time to explore the Winter Haven Chain of Lakes. It is a beautiful fishery that can provide you with the ultimate outdoor experience. Every trip is unique and can show you a fantastic time. If you want to get your family addicted to fishing, this is a great location.
Our local experts, especially Captain Bill, can show you why we love this fishery. We hope to get the chance to get you out on the water on your next Central Florida vacation!
If you enjoyed this post, you might also enjoy this fishing report from the same area.
Don't forget to follow us on Facebook, YouTube, Twitter, and Instagram.