Cookie Cutter Everglades Fishing
Are you interested in catching more bass than your arms can handle? If you are shaking your head yes, the Florida Everglades is the perfect place for you. The long stretches of canals provide ample opportunities to catch more fish than you can imagine. Each trip is unique and provides a new experience but you can count on catching lots of largemouth bass. Hop on board for a cookie cutter everglades fishing charter of a lifetime!
Bass Fishing in the Everglades is an angler's paradise. The numerous amounts of freshwater fish allow you to throw artificial baits or fly all trip long. Our local experts strive and work endlessly to make sure you have a trip worthwhile. When you are visiting Florida, you have to get in the outdoors. If you are looking to watch birds, experience wildlife, and catch bass, South Florida has you covered.
Here is a little insight on the Florida Everglades Fishing Experience: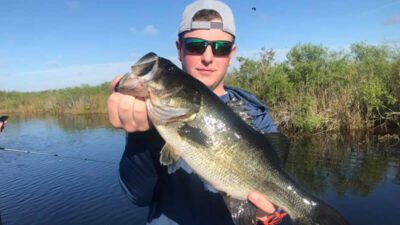 Captain Joe Gruny had the pleasure of fishing with Jerry and JJ. They were traveling to South Florida from Grand Rapids, Michigan. While down here enjoying the sunshine, bass fishing was on the menu. The action was red hot and these great friends put some bass in the boat. Captain Joe got them on over 47 largemouth bass weighing up to 4 pounds 8 ounces. They had a blast with every cast throwing artificial baits including flukes and soft plastic worms. Captain Joe is looking forward to their next adventure in the near future!
It was not long after this fishing trip that Captain Rick Mitchell was out on the water. Captain Rick had the pleasure of fishing with Michael and Sharon. This lovely couple was visiting the west coast of Florida looking for some fun in the outdoors. Florida bass fishing in the Everglades was the perfect match for them. They landed over 30 largemouth bass in their quick fishing trip on soft-plastic worms. All you have to do is sit back and relax while reeling them in. Captain Rick is looking forward to another amazing day on the water.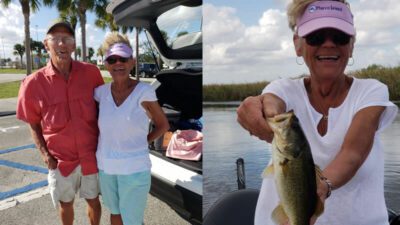 Just shortly after this fishing trip, Captain Joe was back on the water. Captain Joe had the pleasure of fishing with Robert and Karen. They were traveling from Indiana looking to cash in on outdoor experience. The Alligator Alley at Mile Marker 41 was a great option for them on their journey. Robert and Karen landed over 43 largemouth bass on their fishing trip. Most of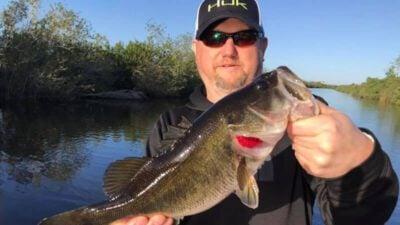 the fish were 1-2 pound cookie cutters along with several quality bass reaching 3 pounds. Robert and Karen are looking forward to their next trip with Captain Joe!
The Florida Everglades has everything that you need to offer. Get in the outdoors and enjoy the sunshine right here in South Florida. Endless numbers of bass can be caught this time of year. Bring your family along for a fishing adventure of a lifetime! Our local experts will get you on them.
Come Visit Florida and Catch Yours Today
[fusion_button link="http://bassonline.com/florida-lakes/alligator-alley/" title="BOOK YOUR EVERGLADES FISHING TRIP ONLINE NOW!" target="_self" alignment="center" modal="" hide_on_mobile="small-visibility,medium-visibility,large-visibility" class="" id="" color="default" button_gradient_top_color="" button_gradient_bottom_color="" button_gradient_top_color_hover="" button_gradient_bottom_color_hover="" accent_color="" accent_hover_color="" type="" bevel_color="" border_width="" size="" stretch="default" shape="pill" icon="" icon_position="left" icon_divider="no" animation_type="" animation_direction="left" animation_speed="0.3″ animation_offset=""]BOOK YOUR EVERGLADES FISHING TRIP ONLINE NOW![/fusion_button]
If you enjoyed this post about South Florida Fishing, you might also enjoy this fishing report from the same area.
Don't forget to follow us on Facebook, YouTube, Twitter and Instagram.