Catching Peacock Bass On Megabass Jerk Baits In Lake Ida
Hello, this is Capt Robert Miley. I'm preparing to leave Lake Ida and tell you about Catching Peacock Bass On Megabass Jerk Baits.
I had Daryl and his son Jaden from Missouri, and we caught about 30 peacock bass; we caught them on artificial and live bait, but we caught all of our big fish on megabase jerk baits. It was a fantastic day; they had an outstanding time with an 8-hour trip, and we caught them all day long. The water temperature was 74 degrees; it was 57 when I put it in, and it was 74 when we pulled off, and it was just a fantastic day.
It was really Windy and made throwing the jerk baits challenging, but we got some bigger Fish when we got into some nice areas around the boat docks. They've been staying down here in Pompano, and they're going back to Missouri, and it's cold up there. Talk to you later, bye now.
Capt Robert Miley is a full-time fishing guide in South Florida. Do you want to explore catching peacock bass in Florida the right way? Based in Miami, Florida, Capt Robert was born and raised in Oregon and served our military. After service, they moved to South Florida and have been in the fishing industry, with over 30+ years of fishing experience.
 If you're itching to experience the best Miami fishing, he is your guy with the most experienced, superior boat and most adequate equipment and is widely known as the Peacock "King." You can't & won't go wrong, specializing in largemouth Bass, Peacock bass, Snakehead, Clown knife fish, Cichlids, and knowns the fishing just as well as anyone. You choose to use live bait or artificial bait. Capt Robert has many favorite tips and lures to share with you for catching Peacock Bass On Megabass Jerk Baits.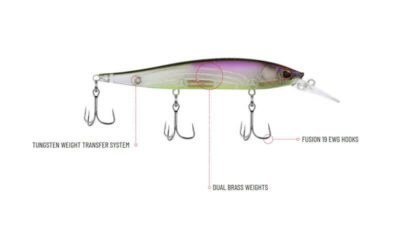 Enjoy a comfortable high-end ride aboard a spacious 21-foot Nitro boat powered by a 250 HP Mercury engine for more security and speed. Its navigational electronics include a GPS, a fish finder, and a set of power poles to lock on to the hot spots. There are custom fishing seats to make sure you have the most relaxing day out on the water while Catching Peacock Bass On Megabass Jerk Baits. As well as that, the boat, an ice box, and additional room in the cooler for any extras you which to bring. He can accommodate up to three guests, four if more minor, and kids are always welcome aboard.
Capt Robert likes to start early, always the first one at the boat ramp, fishing just before sunrise but is open and flexible to your schedule. His trips include the boat, fuel, cooler, ice, bottled water, and all tackle & equipment necessary for fishing. The trip ends when you are ready; having a great time, let's continue.
Capt Robert is knowledgeable in light tackle & fly fishing and has many custom flies waiting in his box for you. He frequently fishes the Airport lakes, Falls System, Florida Everglades, Lake Ida, and Lake Okeechobee. Kids, pets, and the disabled are more than welcome to join my adventures.
He loves to share his passion and knowledge with you while putting you on fish. Living and fishing in the areas allow him to have a superior experience on these lakes.
Contact us below or book online, and I look forward to hooking up. If you liked this article on catching peacock bass on Megabass jerk baits, you might enjoy these articles on types of bass, different lure types, bass fishing at night, or even learning what is a panfish.