Whether you consider yourself a new angler who is bravely testing the waters into an adventurous hobby or a certified fisher in quest of something brand-new, the alluring lake will always have something to offer.
By nature, lakes typically mean more approachable and calmer waters, guaranteeing a fantastic setting for new anglers to experience the bass activity and embrace the outdoor scenery. For starters, you will need some worms, a compass, a reel, a thermometer, a sparkle of patience, and your best pair of sunglasses! 
Your successive prideful bass medal is most likely lurking all over the thick vegetation around the nearest lake. Dive in further with us as we are narrowing down the best bass fishing lakes in the US for your next getaway quest. 
Bass Lake Fishing: What Are the Benefits?
Regarding lake fishing, the most favored endeavor is equivalent to bass fishing. Thrilled anglers and locals have a soft spot for the best bass fishing lakes in USA for various reasons that come together when out on the water:
Excitement build-up
Challenges
Outdoor nature
Silence and harmony
The best benefit of bass lake fishing is the total concentration on fishing performance. For a moment, you will be able to put all of your worries on pause, acknowledge the sight around you, and unwind.
The
Best Bass Fishing Lakes in the US
: Top 10 Picks
If you are constantly trying to find ways to boost your emotional and physical health while escaping the loud noises from your daily life grind, lake fishing is a great and promising solution! 
For a chance to get away in nature, we'll assist you in narrowing down the best bass fishing lake in the US.
Lake Okeechobee, Florida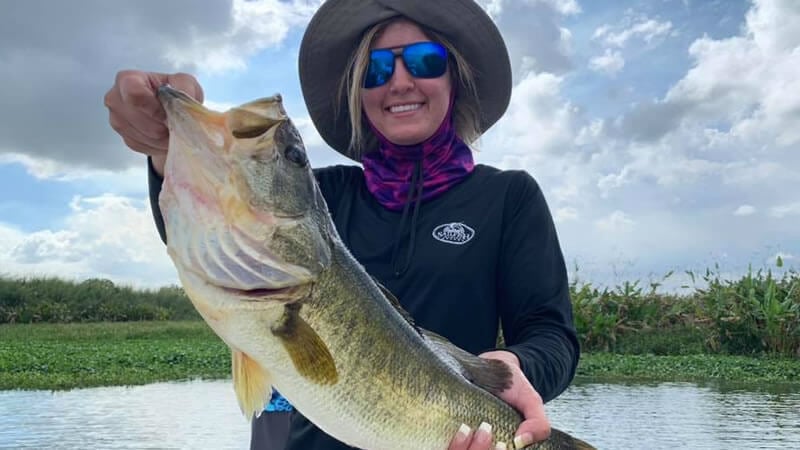 Most famously known for bass lake fishing, with a coverage of 730 square miles, Lake Okeechobee is the bass capital fishing spot in Florida.
The Sunshine State has been home to freshwater trophy bass fishing for many years. Wild shiners or affected lures are the two main methods to catch trophy fish on Lake Okeechobee.
The "big water" lake is an exceptional breeding ground for a collection of bass species. These include largemouth bass, black bass, sunshine bass, white bass, striped bass, spotted bass, shoal bass, and butterfly peacock bass.
When organizing your Florida vacation, Lake Okeechobee is considered the best bass fishing lake in the world by many and is a must-stop station for freshwater bass fishing, with optimal months being between November and June.
Clear Lake, California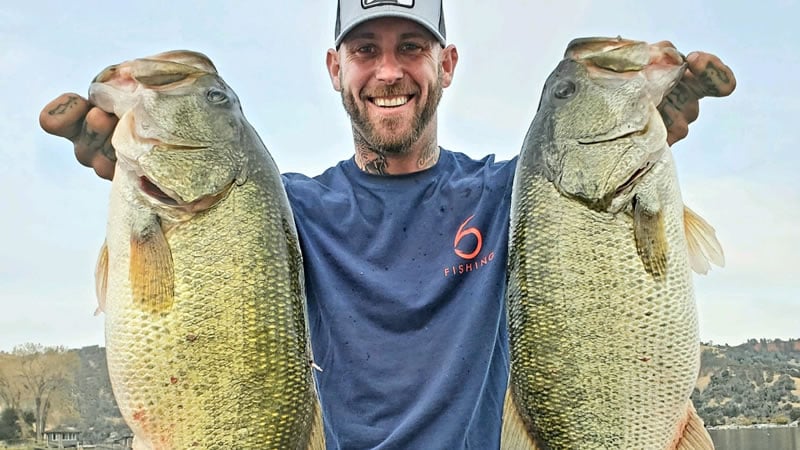 Clear Lake, nicknamed the "Best Capital of the West," carries an excellent population of largemouth bass fishing, catfish, sunfish, bluegill, crappie, and trout. Without consideration, it's California's greatest lake fishing destination.
With over 43.600 acres, Clear Lake is a unique shallow lake that braces warm water bass fishery. For this purpose, ensure an upfront supply of crankbaits, worms, jerkbaits, and floating frogs. 
The lake offers trophy bass capacity and ordinary-sized fish, and springtime would be the ideal time to visit and fish for largemouth bass.
Lake Arrowhead, Georgia
"The Alps of Southern California," Lake Arrowhead is a stunning private resort paradise. 
The Arrowhead Lake Associations allow licensed members to catch numerous species of fish year-round. The fish selection includes catfish, bluegill, crappie, largemouth and smallmouth bass, sunfish, and rainbow trout.
Lake Arrowhead is an unwinding location to escape the hustle of busy days in California. But remember to respect and apply for its state fishing regulations and license and freely enjoy the dazzling sites offered.
Fellsmere Reservoir, Florida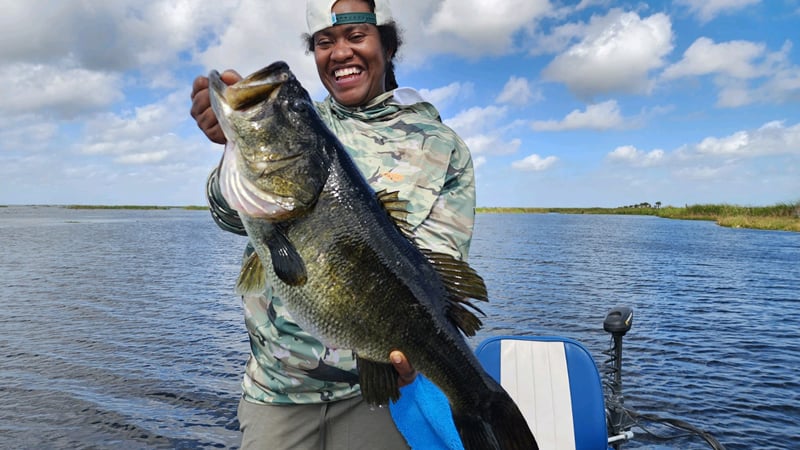 Fellsmere Reservoir, also commonly known as Headwaters Lake, is a 10.000-acre artificial fishing lake currently aiming to develop into the best bass lake in USA. 
In hopes of structuring the flawless bass fishing lake, countless underwater habitats and features were put together to complete the brand new impressive fishing destination in Florida. 
Plugs, worms, and jerkbaits are exceptional beginner points and are needed while fishing for largemouth bass, bluegill, crappie, or sunfish at this hub bass theme park.
So allow yourself a break to enjoy Florida's bright sunshine and excellent food, and crown your day with a whooping 25 bass catch—nothing unusual about this fishing destination. But has become one of the best bass fishing lakes in Florida.
Lake Fork, Texas
Everything is bigger in Texas, with Lake Fork being known as the "big bass" trophy fishing lake on earth for anglers watching out for their big catch. 
The main occupation of Texas Lake Fork's fishermen is the largemouth bass. However, this excellent bass lake also has bluegill, catfish, black and white crappie, and other fish. 
Regular anglers advise that bass best bites for bass at night or early morning. Promising lures summarize plastic worms, jigs, and spinnerbaits, best applied from January to March and October and November. 
California Delta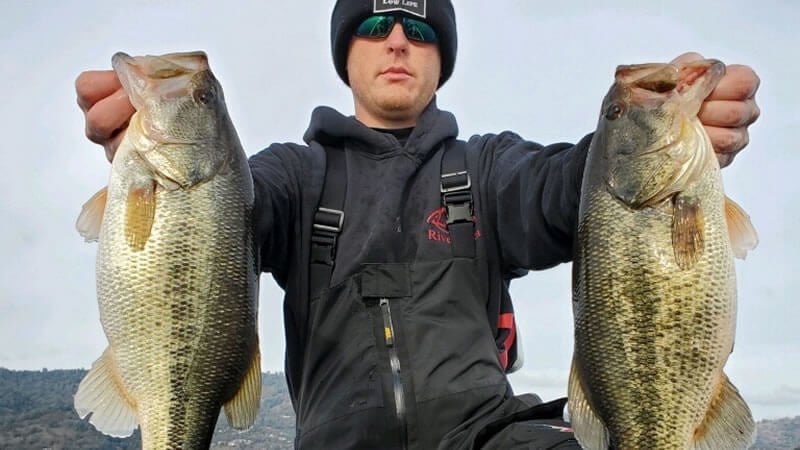 With over 80.000 acres of water, Delta converts into the heart of California, encouraging breathtaking views and amazing fishing stories.
The Delta is well known for its bass population, mostly summoning smallmouth bass and largemouth bass fishery.
If you are not looking to score any particular species, you can hit the road and waters over to Delta at any given time throughout the year.
Sam Rayburn Reservoir, Texas
Often introduced as "Big Sam," Sam Rayburn Reservoir offers year-round success with largemouth bass. 
If you are aiming to seize your trophy fish of a lifetime, January, February, and March are confirmed as valid months to do so. You will be able to encounter a variety of bass, catfish, crappie, and similar species in this 114.000-acre reservoir.
Whatever your fishing tactics and baits may be, you can always rely on your preferred techniques while bass fishing at Sam Rayburn.
Lake Guntersville, Alabama
Lake Guntersville is Alabama's immense lake that spreads to around 69.100 acres. The lake offers the possibility to appreciate the sky color, peaceful fishing from a kayak or shore, bird watching, or simply decompressing under the trees.
Even though Lake Guntersville is well known nationwide for large bass, anglers can target a range of breeds such as bluegill, largemouth bass, sunfish, crappie, catfish, sauger, and striped bass.
Note that the right time to hook a trophy-worthy largemouth bass result is in February, March, and the beginning of April.
Lake Erie – Pennsylvania
Lake Erie is the thirteenth biggest natural lake in the world and offers a top-notch smallmouth bass fishing adventure.
It is home to great-sized fish species such as bass, trout, walleye, yellow perch, steelhead, crappie, and bluegill. The prime season for lake fishing in Pennsylvania is in summer, from July to September.
Lake Erie is a kids-friendly environment where you can find peace in witnessing the sunsets and wildlife. As an alternative, you can always try your luck into luring a largemouth bass today!
Bull Shoals Lake, Arkansas/Missouri
Bull Shoals Lake is a largemouth-class fishery that offers the best fishing. You can find species like bass, crappie, walleye, channel cat, bream, catfish, bluegill, trout, and numerous other breeds.
Bass boats, kayaks, canoes, and fishing boats are all embraced on the waters of this 71.000-acre reservoir.
Familiar lures for bass that you can imply here are jigs, worms, spinners, and crankbaits. The finest time to go bass fishing is from March through June.
How to Pick the
Best Bass Lake in USA
Research and identify your fitting local fishing scene and value any regulations in effect. Each of our previously listed bass lake locations in the USA will display an adventurous bass fishing trip for you and your family.

Gear up with the necessities and pick up your sturdy rod, worms and frogs, red lures, and baits.

Seek spots that provide coverage and advance your terrain – bushes, vegetation, grass, rocky bottoms, and fallen trees are excellent structures to set up your cast.

At dawn and dusk, preferably, summer and late spring deliver perfect bass fishing conditions.
Best Bass Fishing Lakes in USA
: Concluding Remarks
Every person can encounter a unique change of scenery and appreciate the benefits of lake fishing, whether a newcomer or a master in this zone. Gear up with the necessities on your excellent bass fishing ordeal.
Take another look at the best bass lakes in USA to locate the nearest freshwater lake. To read the most extensive list, visit Bassmaster top 100 lakes. Reach for your favorite polarized sunglasses and embrace the positive effect on your mental and physical health along lake fishing in nature.
FAQs
What state has the best bass fishing lakes?
Some say Michigan dominates the list of the best states for bass fishing lakes.
What is the number 1 type of bass fishing lake in the US?
The largest lake in Alabama, Lake Guntersville tops the #1 rank for the best bass fishing lakes in the US.
What lake has the biggest bass in the US?
Lake Fork, Texas, proudly holds the title of the "trophy bass factory," with a state record of 65% of the largest bass, all captured from Lake Fork. Clearly, some of the best bass fishing in the world!
People Also Ask
Is bass fishing better in lakes or rivers?
It's a preferred style of choice, with some anglers favoring the calm and relaxing lake fishing act while others select the flowing river waters or places with both, like Chickamauga Lake. Remember the water movement and calculate what it means for your casting and bait.
Is bass from a lake good to eat?
Yes, bass lake fish is a tasty and nutritious option. It's rich in protein, omega-3 fatty acids, as well as vitamins A and B, phosphorus, and selenium.