Bass are on the Beds
Spring is here, and the bass are on their beds. The males have been fanning out beds on firm lake bottoms with plenty of nearby vegetation. Suppose they are successful in their amorous intents to entice a female to join them. They'll soon spend time guarding the nest and fanning thousands of eggs to keep them oxygenated.
This annual ritual is dependent not only on the sexual appeal of the individual bass. But also on the quality of the environment, the vagaries of weather, and the impacts of man.
Florida Fish and Wildlife Conservation Commission (FWC) fisheries biologists are charged with sustaining fish populations. At the same time, providing recreational opportunities for more than 1.4 million anglers when the bass are on the beds. Those who enjoy more than 24 million bass fishing trips a year in Florida bolster the economy by $1.4 billion.
The FWC faces a considerable challenge that requires different approaches in many of Florida's 7,700 lakes, which comprise 3 million acres of water, plus 12,000 miles of rivers, streams, and canals. FWC biologists work with many partners to ensure water quality and healthy bass populations. The FWC also conducts major habitat enhancement projects and controls the spread of non-native plants. The FWC's two freshwater fish hatcheries provide quality, disease-free, genetically appropriate bass for stocking when needed.
Change will come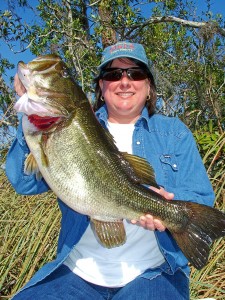 These biologists modify fishing regulations when necessary to ensure quality bass fishing now and in the future. Wildlife officers enforce the rules. Outreach efforts help reconnect Floridians of all ages with nature to lead happier, healthier, and more innovative lifestyles, following the advice of getting Outdoors Florida! Coalition and the Children and Nature Network.
Biologists from the FWC's Fish and Wildlife Research Institute and the University of Florida are conducting a statewide largemouth bass research study. Scientists hope to learn how frequently bass are caught and harvested and more about the size range of fish saw. The results of this study will help them manage the fishery for quality and trophy-sized largemouth bass.
Bass in 30 lakes throughout the state has been tagged with small, yellow tags along the back of the fish, just below the dorsal fin. These tags carry a printed telephone number, e-mail address, tag number (e.g., LMB 0001), and reward value.
Anglers should carefully examine all bass caught in Florida lakes for reward tags, as biologists have tagged fish from lakes throughout the state. To claim their reward, anglers are encouraged to report these tags to the FWC Angler Tag Return Hotline (800-367-4461). The FWC is also working with BountyFishing.com to gain additional information about big bass being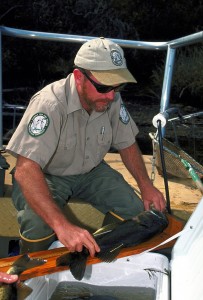 caught throughout Florida and is monitoring results from all permitted bass tournaments.
But there is Still More.
With all of this going on, the FWC has decided it is time to have a long-term management plan for black bass (largemouth bass, shoal bass, spotted bass, and Suwannee bass). To learn more about the plan while the bass are on the beds, visit MyFWC.com/Fishing. You can help by completing the online survey.
Don't forget, that your fishing license fees and excise taxes paid on fishing tackle and motorboat fuels fund all of these efforts. The funds are returned to the FWC from the U.S. Fish and Wildlife Service based on the number of paid license holders in Florida.
To thank anglers for their contributions and to work with industry partners, the FWC is offering a unique 5-year freshwater fishing license bonus program. Until 3,000 boxes filled with free tackle, publications, and fishing accessories are distributed when bass are on the beds, anyone buying a 5-year freshwater fishing license will receive the bonus automatically in the mail.
A 5-year license costs just $79, plus a convenience fee. But in return, you know the fees won't increase while you have your license, and you don't need to worry about renewing for five years.
Be Prepared
Five-year licenses are available online at MyFWC.com/License and via the toll-free phone number 888-347-4356. In addition, they may be purchased at any license agent, such as retail stores that sell fishing supplies and bait-and-tackle shops or at county tax collectors' offices.
For information about bass are on the beds local fishing opportunities, visit MyFWC.com/Fishing, where you can also verify that you will be one of the first 3,000 and see all of the bonus package contents.
Till next time tight lines and good fishing….
From Staff Writer BASSonline – fishing@bassonline.com
BassOnline.com / 888-829-BASS
BassOnline.com is Florida's Largest Freshwater Guide Service and Outfitter, specializing in bass on the beds in Florida, Ga, PA, AL, TX, and CA bass fishing on lakes, reservoirs, canals, and rivers.
To learn more about Florida bass fishing, visit Bass Fishing Blog. Also, visit our sister websites Florida Bass Fishing, Lake Okeechobee Fishing, Bass Fishing Florida, Florida Peacock Bass, and Everglades Fishing.