Artificial Fishing Lake Okeechobee
Are you a bass fisherman? Do you love to explore new places? Have you ever fished Lake Okeechobee? Lake Okeechobee is one of the most breathtaking places to explore. The bass fishing has been fantastic this month. If you are looking for big bass, this is the perfect destination. The spawn is here, and the fish are biting. Hop on board and explore what Lake Okeechobee offers while artificial fishing Lake Okeechobee.
To succeed while bass fishing on Lake Okeechobee, you must fish with local experts. They have spent a lot of time making sure your experience is magical. Our local experts have years of experience putting you on the bass all trip long. When you embark on your journey on Lake Okeechobee, bring your friends and family along for an adventure of a lifetime!
Local Legend and Captain Mark Shepard had the pleasure of fishing with Russ out of Clewiston, FL. Russ was traveling from Long Island to get out of the harsh winter. While doing so, he did not expect Florida to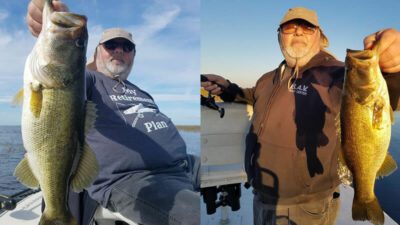 have its crazy weather. Changing conditions did not stop the bass from biting on this fishing charter. Russ was on vacation looking to get away from building construction gear and metal work.
Captain Mark had a fantastic time talking with Russ about many different things. Russ caught some decent numbers on this fishing trip. The biggest bass of the trip weighed in at 5 pounds. Russ had a great time catching bass on artificial bait. Most of the fish were caught on jigs and soft plastic. The largemouth bass is filled with color and is very clean. You can tell they are getting ready to spawn; now is the time to catch them!
Captain Mark is looking forward to his next adventure with Russ while Clewiston Bass Fishing!
Next up Capt Brian
The same day, Captain Brian Brown had the pleasure of fishing with Jim and Kenton out of Belle Glade, FL. They adventured out of Slims Fish Camp in search of quality largemouth bass. A quick 6-hour fishing trip can accomplish your dreams on Lake Okeechobee. One of the best parts about fishing in this beautiful place is that you experience an abundance of wildlife and catch fish. The alligators and array of different birds make Lake Okeechobee Bass Fishing a true outdoor adventure!
Jim and Kenton enjoyed catching largemouth bass on wild-caught live shiners. It adds and makes for a fun day of fishing. They ran across the lake and saw several different spots giving them an authentic feel for Lake Okeechobee. Throughout the day, they picked away at 2-3 pound bass. Once they found the money spot, the big bass started coming to the boat. Jim caught a 6-pound largemouth which made their day of fishing.
Captain Brian had a fantastic time fishing with these gentlemen. They will be back shortly for more bass fishing action!
Then Capt George
Shortly after that fishing charter, Captain George Mrozinski had the pleasure of fishing with Jeff and his friend Demarcus. They are repeat clients that love to fish out of Clewiston, FL, for largemouth bass. They embarked on a quick afternoon fishing adventure. Demarcus has never been to Lake Okeechobee.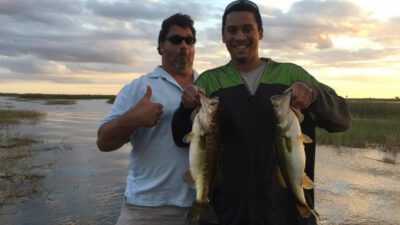 Demarcus caught most of the bass caught on this fishing trip. Jeff let his friend catch most of the fish because it was his first time. They caught a several-quality largemouth bass on this fishing trip. Most were in the weight range of 2-4 pounds. You can't beat beautiful weather and a lovely evening on Lake Okeechobee.
Jeff and Demarcus will be back for more action, and Captain George is looking forward to their next adventure!
Lake Okeechobee is alive and well. The bass fishing is starting to get good. Big bass is being caught; this is one of the BEST months to explore Lake Okeechobee. Now is the time to come explore what Lake Okeechobee has to offer. The spawn is here!
We look forward to seeing you on the water next time!
Come Visit Florida and Catch Yours Today.
If you enjoyed this post about Okeechobee Fishing, you might also enjoy this fishing report from the same area.
Don't forget to follow us on Facebook, YouTube, Twitter, and Instagram.