Packing for a Fishing Trip: Don't Forget the Essentials
Are you getting ready for your next fishing adventure? We want to help you pack! Any good fisherman knows how important being prepared is, so we've compiled a packing list for a fishing trip of all the essentials for you.
Through it, you'll learn what to bring on a fishing trip to guarantee success and be ready for anything! Our list is very simple yet comprehensive and will help make sure that you don't leave any fishing trip essentials behind. 
We've compiled this list with beginner fishermen in mind! Take this list as a masterclass on the subject and come back to it whenever you need to. Before we go further, understand this article covers the needs of travel, but because fishing is so complex with seasons and styles of fishing your list could be completely different!
How to Decide
What to Bring on a Fishing Trip
? 
Before you start filling that bag, it's important to learn more about the place where you're going. Are you tackling freshwater or salty waters? Lakes, Rivers, Inshore, or Deepsea? What's the weather like? Are you fishing in summer or wintertime? The answers will help you narrow down the essentials and not overpack.
Once you have your basics nailed down, consider the trip's duration. Is this a one-day affair, or taking off for the weekend? A longer trip means more stuff to bring along; however, it doesn't mean bringing more than you need. 
In most cases, transportation will determine how much stuff you bring along. If traveling by car, you have the commodity to bring more stuff. This does not mean the other passengers should cut on their equipment for you to bring useless items. On the other hand, if you need to take a plane to the desired destination, then narrow things down to the necessary items.
Also, ask yourself, are you using an outfitter, fishing charter, or local fishing guide? If so, check with them for insights. Most likely your payload will be many lists if you using one of these services. 
We'd also like to remind you that a fishing trip is only possible with a fishing license. No matter where you are in the world, a fishing license is extremely important to have, so get one before you head out.
With all this out of the way, it's time to talk about exactly what to take on a fishing trip!
Fishing Trip Essentials
: The Ultimate List 
No two fishing trips are alike, so pick the items and equipment based on where you are going and what activities you'll be doing. We've divided the list of all the things to bring on a fishing trip into categories. 
Fishing Bag
First thing first: a good, sturdy bag is a must. A huge part of your comfort during the drip will depend on the bag you have, so choose wisely. Make sure your bag is big enough for every essential. Also, ensure it's both comfortable and waterproof. 
A shoulder strap is also an absolute must, so check if the bag you're looking at has one. Having many accessible pockets will also make grabbing things much easier. Finally, make sure your bag is made of a durable material and has good stitching. 
Clothing
The clothes you bring on the trip need to be comfortable and functional. To start, bring a pair of pants on you and one in your bag. Make sure they're high-quality, breathable pants you can sit in. It's best to pick long pants instead of shorts.
Next, choose a cotton shirt in a bright color, especially if you're fishing in summer. The bright shade protects from the sun. Of course, carry a spare shirt in your bag. Bring the shirt if you don't have space for both a spare shirt and pants.
A good jacket is also a must-have item, especially in winter. However, don't think you won't need one for summertime fishing too. Temperatures near water are always lower, and as we said, you need to prepare for anything! 
Personal Items
Next on the what to pack for a fishing trip list are personal items. These can be anything, from your wallet and keys to medication, radio, phone, and more. Bring the things you reach for most when you're home, but don't overdo it. 
Fishing Equipment
Fishing Rods
If you're on a trip to relax, one fishing rod should do the trick. If you are there to catch a big fish, bring a spare. Even though a quality-made fishing rod won't break on you, having another around is always smart.
Lures
Remember when we made you consider the waters you're fishing in? This is why! All fish are different, so they require different lures as well as hooks. Your best bet is to bring a starter kit with various lures.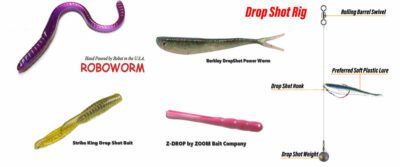 Leaders
Opt for a high-quality fishing line and bring along the entire spool. You can find them at any fishing store, online, or in a starter fishing kit. The best line to go for is a monofilament line, as it's both stretchy and sturdy. Monofilament lines are also great for knotting.
It's great to note that this type of line is also cheaper than the rest yet offers amazing results every time.
Other Supplies
The above items are the main items you always reach for when packing for a fishing trip. Here are some that you may not think about right away as fishing trip essentials. 
Fishing License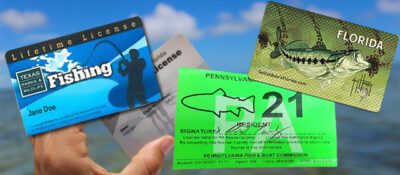 Your fishing license is as important as your fishing rod and line! No matter where you plan to fish, pack your fishing license and always have it on you. Authorities everywhere take illegal fishing seriously, and your license will save you a lot of trouble. 
Sunglasses & Hat
Sunglasses are a personal item, but worth mentioning here. A good pair with quality UV protection will help you immensely. Pack sunglasses for both winter and summertime fishing. We'd also suggest a good, sturdy hat with a visor.
Sunscreen & Bug Spray
Your long pants will help you against the sun and the bugs, but what about your face and hands? Pick up a good bug spray and a bottle of sunscreen and keep them in your fishing bag. Having bites or getting a sunburn can ruin your mood and the whole trip!
Packing list for Fishing Trip
: Concluding Remarks 
Our list is easy to follow and helps you remember everything. We're confident that after going fishing a few times, you'll know what to bring on a fishing trip. Until then, we've got your back.
Leave many of the listed items in your fishing bag until your next trip. Keep this in mind to save yourself the trouble of packing every time. However, make sure to check your bag before heading out, as some things may need an update.
Now your list of things to bring on a fishing trip is truly complete. We hope your upcoming trip is a successful one. Remember to respect nature, leave your site better than you found it, and have fun!
FAQs
What do I need for a camping fishing trip?
You'll need a tent, food and water, a first aid kit, a fishing license, a fishing rod and lures, warm clothing, and hiking shoes. 
What do I need for an all-day fishing trip?
A good pair of pants, a jacket, a waterproof fishing bag, fishing rod and lures, food and water, sunscreen, and a fishing license. 
People Also Ask
What do I need for fishing as a beginner?
As a beginner, you need a fishing license, good rods and lures, leaders, fishing weights, and bobbers.
What is in a fishing kit?
A fishing trip essentials include everything a new fisherman needs. A good quality fishing kit should contain leaders, lures, hooks, a rod, floats and sinkers, reels, and more. 
What to bring on a fishing trip