Summer Artificial Bass Fishing
Summer has been rolling by and the bass have been getting caught. These summer months have been hot and fishing has been as well. Lake Okeechobee has been a very productive summer fishery despite the negative news reports. Summer Artificial Bass Fishing can truly bring memories that can last a lifetime.
Okeechobee City is a beautiful fishing destination for largemouth bass. You can get the chance to experience wildlife and catch big bass. Even though live bait is the most productive method to catch bass, you can enjoy a day on the water throwing artificial baits especially in the summertime. Captain Brian Brown is our local expert that has been fishing this amazing location for years!
Captain Brian had the pleasure of fishing with Gary and his son Danny for three days this summer. They were traveling from Georgia looking to catch some largemouth bass on Lake Okeechobee. Gary wanted to spend some quality time with his son Danny before he went off to college. This was his graduation gift.
One of the blessings of this fishing trip was that they never caught a bass before. The action was hot and heavy for them all trip long. Danny's first bass came on artificial baits especially the swim jig. Throwing this jig through the grass has been super productive in bringing fish to the boat in the early morning.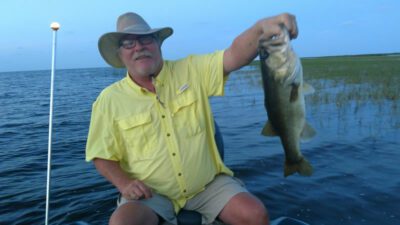 Summer Artificial Bass Fishing focuses in on the outside weed lines on the north end of Lake Okeechobee. Whether you want to throw swim jigs, spinner baits or swim baits along the Kissimmee grass. If you can imitate the shad in the early morning, you can easily capitalize on the early morning bite. Summer months the bass feed early and chase shad through the grasses!
Once the morning bite slows down, tactics are definitely going to have to change with them. Those bass that have been moving through the grass lines have no moved back under mats to get out of the summer sun. It is then that you should pick up the flipping rod and flip around the reeds and bulrushes. You can also catch bass while punching mats.
Each day was very productive for Gary and Danny. They both caught some good numbers and quality bass. The biggest bass weighed close to 4.5 pounds. It is always great to help an angler learn new techniques and practices to catch bass.
Captain Brian is looking forward to the next opportunity to catch bass with Gary and Danny!
Lake Okeechobee is in great shape. PLEASE do not let the news feed into the condition and fishing on Lake Okeechobee. Fishing has been spectacular and the bite is going strong. If you want to have the best opportunity this summer to catch bass, make sure you get out there early!
We look forward to seeing you on the water next to put you on that fish or trip of a lifetime!
Come Visit Florida and Catch Yours Today..
[fusion_button link="http://bassonline.com/trips/city/clewiston/" title="BOOK YOUR LAKE OKEECHOBEE FISHING TRIP ONLINE NOW!" target="_self" alignment="center" modal="" hide_on_mobile="small-visibility,medium-visibility,large-visibility" class="" id="" color="default" button_gradient_top_color="" button_gradient_bottom_color="" button_gradient_top_color_hover="" button_gradient_bottom_color_hover="" accent_color="" accent_hover_color="" type="" bevel_color="" border_width="" size="" stretch="default" shape="pill" icon="" icon_position="left" icon_divider="no" animation_type="" animation_direction="left" animation_speed="0.3″ animation_offset=""]BOOK YOUR LAKE OKEECHOBEE FISHING TRIP ONLINE NOW![/fusion_button]
If you enjoyed this post about Okeechobee Fishing, you might also enjoy this fishing report from the same area.
Don't forget to follow us on Facebook, YouTube, Twitter and Instagram.