St Johns River Crappie Fishing
This is Capt Steve with the report for the St Johns River.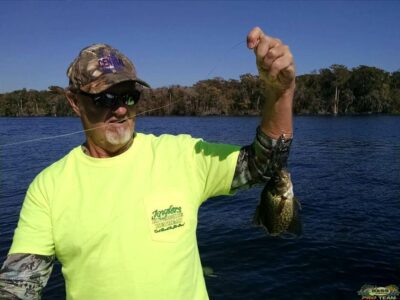 I fished with Bob and Terry and we went out it was cold this morning so we had a pretty bad boat ride for the first 9 miles.
We pulled up to the first spot we fished artificially and we had to move a few times and finally started catching fish we caught about 20 to 22 bass up to 3 and a half pounds.
We used a Steel Shad Lure and a football head jig black with a blue tail with a Tap Out bait from Bass Assassin Lures.
We did pretty well with it and we caught a couple of crappie on the Steel Shad Lure while St Johns River crappie fishing today.
Anyways that's it for now for all your Florida Fishing adventures go to BassOnline, thank you.
About Capt Steve
Captain Steve Niemoeller is a full-time Professional fishing guide and Licensed Master Captain. Primarily servicing the freshwater lakes of the St Johns River, Lake George, and Lake Monroe. He also guides on Harris Chain and Lake Toho. He also has great success on Ponce Inlet and Mosquito Lagoon in saltwater catching redfish and other species.