Spring Lake Okeechobee Fishing
Many bass fishing locations and destinations here in Florida are excellent but there is one that stands out from the rest. Lake Okeechobee Bass Fishing is iconic and many want to fish this amazing lake before they move on. Great fishing can be experienced year round Come discover spring Lake Okeechobee Fishing next time visiting the state of Florida.
Each destination across the lake will give you an independent feel and unique feeling. The south end of Lake Okeechobee has been a very productive this season and spring. If you live or are traveling to South or Southwest Florida on vacation make sure you experience Belle Glade or Clewiston. These are two amazing fisheries.
Captain Mark Shepard adventured out with Patrick who is a long time friend and client. One of his favorite things to do is to come down fishing here on Lake Okeechobee. You truly can't beat the action that this lake can produce all year round. They have been fishing with Captain Mark for over 9 years out of Clewiston.
Pat is a student at Texas A&M studying history. Captain Mark and Pat always have a blast fishing. They love to share memories and stories from previous fishing trips. Pat is an experienced angler that also loves to throw artificial baits. The bite has been very steady and consistent on artificial.
When it comes to Lake Okeechobee Bass Fishing, you are always in search for that big fish. Pat came across a quality largemouth bass weighing 7 pounds. It was caught on an artificial swim jig with Bass Assassin soft plastic swim bait as a trailer. You can catch these bass in many different ways making fishing here on the Big O interesting. Captain Mark will be looking forward to getting out on the water with Pat again!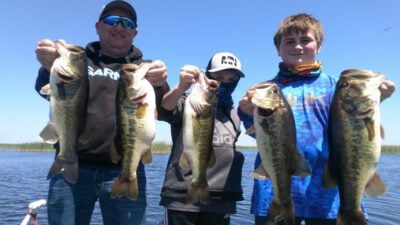 Captain Brian Brown had the pleasure of fishing with Michael and his two boys Tyler and Joshua. It was their first time down in Florida ever and they had to experience what Spring Lake Okeechobee Fishing had to offer. Living in Minnesota, you just don't get the same bass fishing as you would here on this legendary lake.
Slims Fish Camp is the perfect introductory destination to the Lake. It is absolutely breathtaking with a lot to explore. Wild Caught Live Shiners along with artificial baits was the technique that allowed us to put some quality bass in the boat. They caught fish on the very first cast which can be rare.
Michael, Tyler and Joshua had a great time with each other on the boat. Florida bass fishing is a great way to enjoy some family time. When you get to experience something new, it is even better. Walleye fishing is what they normally fish for up in Minnesota. They are planning another trip back down here in the summer months and we look forward to fishing with them again.
Don't miss out on your adventure to fish for Lake Okeechobee largemouth bass. It is one fantastic fishery at all of its locations. Bass will be feeding all year long and you can't beat catching some quality bass with your family or friends. Join us on an adventure of a lifetime with some of the local experts that share a passion with you. We look forward to seeing you on the water.
Come Visit Florida and Catch Yours Today…
[fusion_button link="http://bassonline.com/trips/city/clewiston/" title="BOOK YOUR LAKE OKEECHOBEE FISHING TRIP ONLINE NOW!" target="_self" alignment="center" modal="" hide_on_mobile="small-visibility,medium-visibility,large-visibility" class="" id="" color="default" button_gradient_top_color="" button_gradient_bottom_color="" button_gradient_top_color_hover="" button_gradient_bottom_color_hover="" accent_color="" accent_hover_color="" type="" bevel_color="" border_width="" size="" stretch="default" shape="pill" icon="" icon_position="left" icon_divider="no" animation_type="" animation_direction="left" animation_speed="0.3″ animation_offset=""]BOOK YOUR LAKE OKEECHOBEE FISHING TRIP ONLINE NOW![/fusion_button]
If you enjoyed this post about Spring Lake Okeechobee Fishing, you might also enjoy this fishing report from the same area.
Don't forget to follow us on Facebook, YouTube, Twitter and Instagram.