Miami Falls System Fishing
Click Right for more pictures of this trip
Have you ever wondered, Can I Catch Peacock Bass in Florida? The answer is YES! Miami, Florida is home to the BEST peacock bass fishing in the nation. These highly tropical species love the warm weather all year round. You have to change up your techniques and be patience if you are looking for the trophies that are swimming deep. Join us on a trophy Miami Falls System fishing adventure next time you are visiting the state!
South Florida Freshwater systems can hold a variety of species. When water is released, you can experience saltwater species including snook and tarpon running up through the spiel-way chasing bait. If they close it too soon, those fish will have to adjust to the freshwater. If you adventure out fishing in Miami, expect nothing but a true fishing experience.
Captain Robert Miley is an expert in catching trophy peacock bass and fishing in Miami. The amount of knowledge he has is vast and extensive when it comes to freshwater fishing. If you take out a fishing charter with Bass Online, you will surely get the best experience possible. This is just a taste of what you can experience.
The Falls Canal System deep in Urban Miami, Florida is by far one of the best peacock and exotic freshwater fisheries in the state. Manny was a cardiologist in Miami looking for a way to escape the city life and get outside. Peacock Bass Fishing was the perfect way. He would have never expected to experience what was coming.
Fishing was slower than normal on this fishing trip. Manny was landing a lot of small peacock bass but nothing of value. Patience is essential when fishing for the big ones. You sometimes have to sit in an area and wait for them to come by and pick up the bait. If you are looking for a trophy, the most effective method to use would be live bait and they are in much deeper water.
Manny hooked into something from the depths and thought he was hung up on a branch or something. Once the drag started to scream, it was game on. You have to get out on the water for yourself and hook into one of these peacock bass to understand their fight power. After a long fight, Manny lands a gorgeous trophy peacock bass. Captain Miley put this fish on the scale and it weighed 7.5 pounds. It was absolutely legendary. Manny had a new personal best!
Captain Miley is looking forward to fishing with Manny again in the future.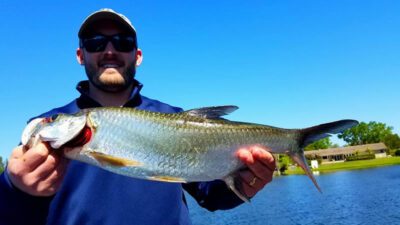 On the next trip while Miami Falls System Fishing, we had a uniquely different experience. Joseph Brown was traveling from Texas visiting Florida and wanted to explore something different. Spending time on the oil fields for work, it was time for a break.
Joseph had a great time cruising through the canal system catching a variety of species. He landed 4 really nice peacock bass, 10 largemouth bass and 1 freshwater tarpon. A peacock bass was on his bucket list and we were glad to be able to help him land one. We are looking forward to fishing with Joseph again in the future. He will be back for more of this incredible bass fishing action here in Miami.
Peacock Bass Fishing in Miami will continue to pick up as the summer roles in. When the weather gets warm, the bite gets stronger. These exotic bass love to eat and feed when the water temperatures are soaring. When you are traveling to Miami, make sure to check out all the activities you can partake in. Hook up with Bass Online and our local experts and they will put you on a fish of a lifetime. Captain Miley is looking forward to seeing you on the water next time!
Come Visit Miami and Catch Yours Today….
[fusion_button link="http://bassonline.com/trips/city/miami/falls-system/" title="BOOK YOUR FALLS FISHING TRIP ONLINE NOW!" target="_self" alignment="center" modal="" hide_on_mobile="small-visibility,medium-visibility,large-visibility" class="" id="" color="default" button_gradient_top_color="" button_gradient_bottom_color="" button_gradient_top_color_hover="" button_gradient_bottom_color_hover="" accent_color="" accent_hover_color="" type="" bevel_color="" border_width="" size="" stretch="default" shape="pill" icon="" icon_position="left" icon_divider="no" animation_type="" animation_direction="left" animation_speed="0.3″ animation_offset=""]BOOK YOUR FALLS FISHING TRIP ONLINE NOW![/fusion_button]
If you enjoyed this post about Miami Falls System Fishing, you might also enjoy this fishing report from the same area.
Don't forget to follow us on Facebook, YouTube, Twitter and Instagram.
[fusion_text]

About Capt Robert Miley started bass fishing in the Florida Everglades.
The very first trip out he caught a 10lb 0/8 o/z largemouth bass, and has been fishing for bass ever since. Robert Miley has been fishing professionally on the B.A.S.S. Eastern Division, for the past 7 years. He also is the Bass Pro Shops Pro Staff representative for South Florida. Versatile in that he fishes for Peacock bass as well as trophy largemouth on Lake Okeechobee.
[/fusion_text]