Loves to do Artificial Fishing, Really Good Fisherman
This is Capt Mark Shepard with your Lake Okeechobee fishing report.
Hey folks, Dennis Daniel's has been out with me many many times he's been down here for a couple days and had a whole lot of fun. Love's to do artificial fishing, really good fisherman.
No one technique dominated, we mixed it up using topwater, many soft plastics, but they were eating a Bass Assassin lizard the best. Basically everything was working really well from us, even spinner baits, swim jigs and rattletraps…we caught them on everything!
This is a fantastic few days are Dennis, pretty good numbers of fish additionally a few nice fish caught in the mix. The weather was beautiful, fantastic time, the lake is doing really, really, well right now. If you get a chance to come fish Okeechobee, don't miss out on your opportunity!
[fusion_content_boxes layout="icon-boxed" columns="1″ class="" id=""]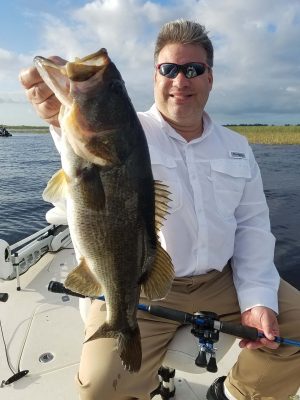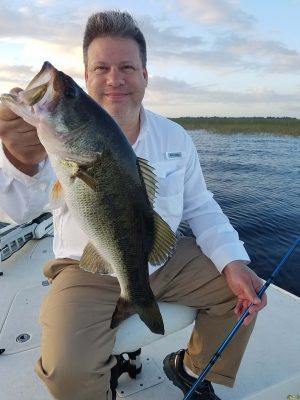 [/fusion_content_boxes]
Again this is Captain Mark, for all you're Lake Okeechobee fishing adventures go to BASSONLINE.COM and we will take care everything for you.
If you enjoyed this post about Naples bass fishing you might also enjoy this fishing report from the same area.
Dont forget to follow us on Facebook and Instagram.
[fusion_accordion]
[fusion_toggle title="CLICK HERE TO WRITE A REVIEW" open="no"]

[/fusion_toggle]
[/fusion_accordion]

[fusion_content_boxes layout="icon-boxed" columns="1″ class="" id=""]
[fusion_content_box title="About Capt Mark Shepard" backgroundcolor="#b2ce96″ icon="fa-user" iconcolor="#3bbf4a" circlecolor="#ffffff" circlebordercolor="#oooooo" iconflip="yes" iconrotate="" iconspin="" image="/wp-content/uploads/2014/10/50×50-border.jpg" image_width="50″ image_height="50″ link="/fishing-guides/okeechobee-fishing-guides/" linktarget="_self" linktext="" animation_type="0″ animation_direction="down" animation_speed="0.1″]Captain Mark Shepard is a full-time guide and touring professional. Experience includes BASS Master, FLW Tours, Everstart, BFL tournaments and many others. Mark has a list of accomplishments in the fishing industry a mile long including a Everstart WIN on Lake Eufaula, AL. Mark originally from Florida moved to Ohio to sharpen him northern skills and moved back from Ohio years ago to master guiding on world famous Lake Okeechobee for over 10 years now.[/fusion_content_box][/fusion_content_boxes]