Long Time Returning Customers the Morgan Family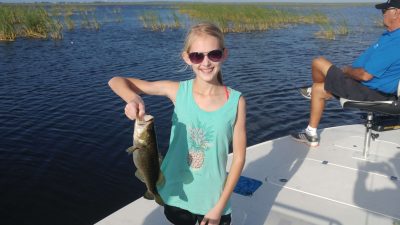 Hi, this is Captain Mark Rogers, and we were on Lake Okeechobee today with a long-time returning customer, the Morgan family. We had a good time, the breeze (wind) was up by 10 to 15 mph, which I think kept the temperature pleasant, calm, and comfortable, and it kept the fish biting all day.
We caught fish pretty much all day from the beginning to the end. I moved around a couple of times with the bite stayed pretty consistent. No real monsters lot of 1-1/2 to 3-1/2 pound fish made for a fun day. At one point, the bite slowed down, and Sierra, the daughter, pulled out or lucky bobber; it was pretty funny because as soon as she pulled it out, her line went down, and she caught two or three fish.
After that, everyone else on the boat wanted to touch the lucky bobber, and it was passed around. The craziest thing was that everybody touched it and started to catch fish. Then we might slow down for a bit, pass the bobber around again, and everybody would start catching fish again.
It all added up to a lot of fun and added a bit of excitement. So that's it for today, so keep looking for those big ones.
Capt Mark Rogers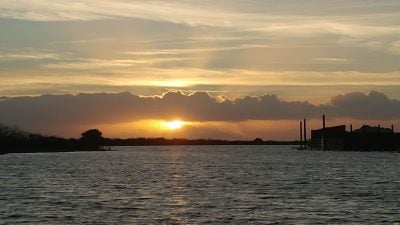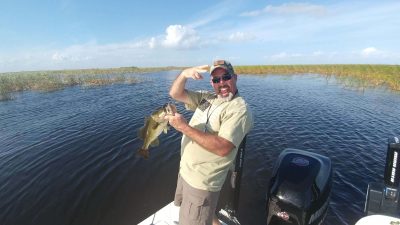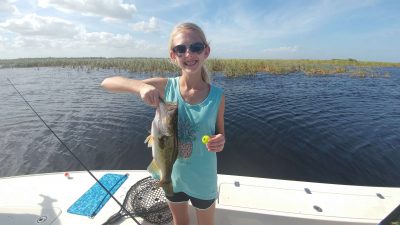 If you enjoyed this post about Naples bass fishing, you might also enjoy this fishing report from the same area.
Don't forget to follow us on Facebook and Instagram.
Captain Mark Rogers is a full-time South Florida bass guide and touring professional. Experience includes Bassmaster Elite Tour, FLW Tours, Everstart, BFL tournaments, and many others. Mark has a list of accomplishments in the fishing industry a mile long.
Mark, originally from California, moved to Florida to sharpen his northern skills years ago to master guiding on world famous Lake Okeechobee, where now he enjoys taking long time returning customers the Morgan Family.