Great Lakes Fishing Charters
One of the most productive smallmouth bass fisheries in the United States is located in Pennsylvania. Lake Erie is part of the Great Lakes and for a good reason. The population of smallmouth bass is thriving especially this time of year. Summertime months produce an excellent bite with some quality catches. Join us and our local experts on a Great Lakes Fishing Charters for Smallmouth Bass.
Capt Mark Rose has been fishing Lake Erie for many years. Knowledge of the lake has allowed him to hone in on catching quality bass. When it comes to bass fishing Lake Erie, you can't beat going out on his beautiful boat and battling these hard fighting bass with top of the line equipment. If you have never caught a smallmouth bass before, your next fishing adventure should be in Pennsylvania.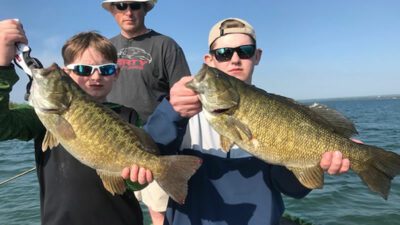 Ryan, his son Ryan, Levi and Rob came out fishing this summer on Lake Erie with Captain Mark. Ryan and Ryan have been out fishing with us before. Captain Mark never fished with Rob before and this was Levi's first time fishing in a boat. They were in-store for a true Great Lakes fishing adventure.
While traveling from the Pittsburgh area, they wanted to land some quality smallmouth bass. The main focus on this fishing charter was the Main lake where Captain Mark knew fish would be holding. Big fish continue to move in and out of this key area allowing for great catches and fights. Water temperatures on the main lake were right around 61 degrees but continuing to fluctuate.
What an amazing afternoon fishing trip with 35 fish in the boat. Levi caught his personal best smallmouth bass weighing 5.71 pounds. Ryan also caught his personal best weighing 5.1 pounds. Rob also came in with a personal best weighing 4.5. Everyone caught big bass and that's all you can hope for on a great lakes fishing charter.
Captain Mark is looking forward to fishing with this amazing group again in the future!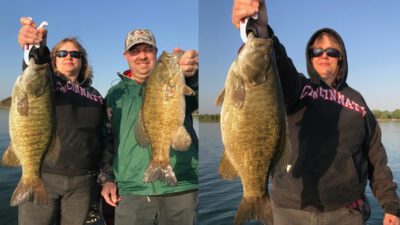 Just shortly after this fishing trip, Captain Mark adventured out for three days on Lake Erie. Presque Isle Bay is where your Great Lakes fishing charter will launch from. It is the gateway to Lake Erie. Sandy and Scott was a nice couple traveling from Cincinnati, Ohio to enjoy some vacation time in Erie, Pennsylvania.
While they were visiting, they wanted to get out on Lake Erie to crush some smallmouth bass fishing. The only way to spend your first time on Lake Erie is to spend three full days out on the water. Fishing was really good and they caught big numbers in three days.
You can catch fish in multiple different spots across the lake and bay. Hammermill Plant on the main lake, Thompson Bay, the Monument in the Bay to Niagara boat ramp is all excellent fishing grounds for quality smallmouth bass. Water temperatures were 63 degrees in the bay and 59 on the main lake. As temperatures fluctuate, the bass will move in and out.
Sandy and Scott had a phenomenal time out on Lake Erie with Captain Mark Rose. Sandy caught the biggest bass weighing 6.41 pounds, an absolute trophy smallmouth bass. They also caught numbers of 4-5 pound bass. When it comes to Bass Fishing Lake Erie, now is the time to put the hammer down on them.
Captain Mark is looking forward to fishing with Scott and Sandy again in the future!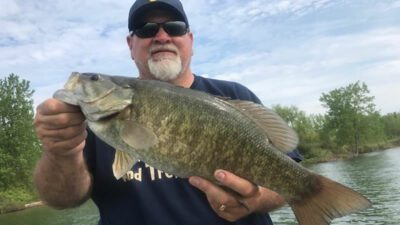 Erie, Pennsylvania is home to the best smallmouth bass fishing. If you have not experienced it before, it is a must. When you are traveling the states, your own state or looking for something unique to do, don't look over our Great Lakes Fishing Charters.
Brent and Tim were traveling from West Virginia to Erie for the first time. It was their first time also fishing with Bass Online. Fishing conditions and weather were rapidly changing which made the bite start out slower than normal. It was only a matter of time before we found them and they started landing fish after fish.
The Main Lake and Bay were key areas on this fishing trip. Monument to Niagara Boat Ramp was highly productive areas to catching the 45 bass they put in the boat. If you are looking to catch numbers like this, focus in on throwing tubes, grubs, drop shots and live bait. The biggest bass weighed 6.21 pounds. Erie is doing really well and Captain Mark is looking forward to fishing with Brent and Tim again in the future.
It is the right time of year to adventure out Smallmouth Bass Fishing. Our Great lakes fishing charters are perfect especially if you never have experienced what fishing on Lake Erie is all about. This lake is not small and you need a local expert to show you and guide you to where the fish are stack up. Summer is BIG fish season and we are looking forward to fishing with you and seeing you on the water next time. Let us know if you have any questions and we will be glad to assist you.
Come Visit Lake Erie and Catch Yours Today…
[fusion_button link="http://bassonline.com/pa/lake-erie/fishing-trips/" title="BOOK YOUR LAKE ERIE FISHING TRIP ONLINE NOW!" target="_self" alignment="center" modal="" hide_on_mobile="small-visibility,medium-visibility,large-visibility" class="" id="" color="default" button_gradient_top_color="" button_gradient_bottom_color="" button_gradient_top_color_hover="" button_gradient_bottom_color_hover="" accent_color="" accent_hover_color="" type="" bevel_color="" border_width="" size="" stretch="default" shape="pill" icon="" icon_position="left" icon_divider="no" animation_type="" animation_direction="left" animation_speed="0.3″ animation_offset=""] BOOK YOUR LAKE ERIE FISHING TRIP ONLINE NOW![/fusion_button]
If you enjoyed this post about Great Lakes Fishing Charters, you might also enjoy this fishing report from the same area.
Don't forget to follow us on Facebook, YouTube, Twitter and Instagram.
[fusion_text]

About Captain Mark Rose hometown is Pittsburgh PA. Mark has been fishing Lake Erie and Lake Okeechobee since 1999. He fishes Lake Erie in the spring for smallmouth. He runs a detail shop in his hometown during the summer, spring and fall and heads to Florida during the winter months to do what he loves, guide on Lake Okeechobee. Learn More About Lake Erie or Capt. Mark Rose [/fusion_text]