Golden Gate Peacock Fishing
Did you know that peacock bass reside in Florida? The most predominant location for Florida peacock bass is in Southeast Florida. Over the years, anglers brought peacock bass to Southwest Florida. As a result, the Golden Gate Canal System is now loaded with fun, hard pulling peacock bass. Hop on board for Golden Gate Peacock Fishing on your next adventure to Naples, Florida!
One of the best parts about Florida is the amount of freshwater you can fish. The biggest problem with it is that it all looks great. Every place you can put a boat in looks like a productive area to go fishing. Unfortunately, not every area is productive. When you are looking for the ultimate adventure, make sure to connect with a local expert that knows the waterways in and out! Our local experts are some of the BEST!
Here is your Golden Gate Canal System Peacock Bass Fishing Update:
Captain Nick Pasquarello had the pleasure to explore Naples with several family and friends over the course of a few days. The first wonderful family was John, his daughter and son-in-law. They were traveling to Naples, FL on vacation. Next, he got the pleasure of fishing with good friends Jay and Rob. After that, Tom wanted to conquer his bucket list species, the peacock bass. Finally, Captain Nick had the pleasure of fishing with Rick, his wife Mari,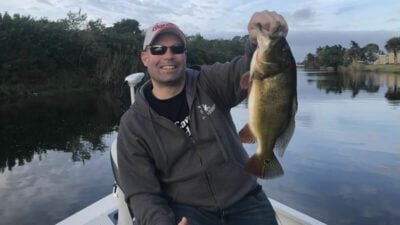 and their 8 year old son.
All the family and friends were traveling to Southwest Florida visiting family or on vacation. While doing so, freshwater bass fishing was on the menu. There was no better location to explore than the Golden Gate Canals. This canal system gives you opportunity to catch the exotic peacock bass, largemouth bass, freshwater Snook, and much more!
During this report, you are going to see a common trend. When cold fronts or consistent weather changes occur, the Golden Gate Canal fishing is affected. You can still conquer your goals and everyone can catch fish. Don't be scared because of the weather as you are in good hands with your local expert.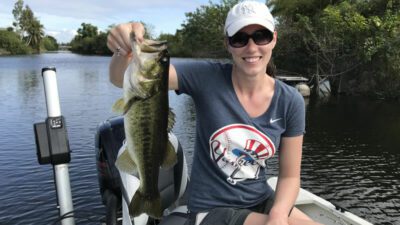 John and his family had a great time on the water. The peacock bass did not cooperate on this fishing trip. However, they did catch several quality largemouth bass weighing up to 4 pounds. Just shortly after that, Jay and Rob managed to catch several peacock bass along with largemouth. The fishing conditions may not have been perfect but everyone was catching fish.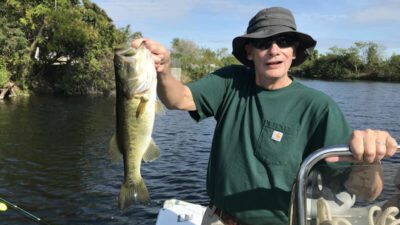 Tom was next and wanted to catch a peacock bass and knock it off his bucket list. Captain Nick got Tom on several quality peacock bass on this fishing trip. He was super excited and very thankful for the awesome fishing trip. Finally, Rick, Maria, and their son got their chance at catching the variety in the canal system. They had an awesome morning catching peacock bass and largemouth bass all trip long.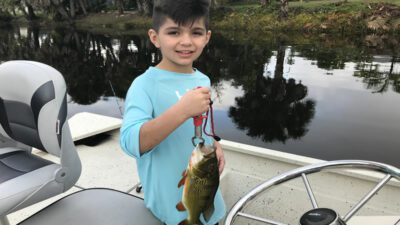 Captain Nick is looking forward to getting these wonderful fishing family and friends back out on the water near Naples, FL soon!
If you are looking for an awesome fishing adventure, Naples has you covered. Freshwater bass fishing here is a great experience for the whole family. As the weather gets warm, so will the bass fishing. Everything is about to pick up and we look forward to seeing you on the water with one of our local experts. You never know what you will hook into!
Come Visit Florida and Catch Yours Today
[fusion_button link="http://bassonline.com/trips/city/naples/golden-gate/" title="BOOK YOUR GOLDEN GATE FISHING TRIP ONLINE NOW!" target="_self" alignment="center" modal="" hide_on_mobile="small-visibility,medium-visibility,large-visibility" class="" id="" color="default" button_gradient_top_color="" button_gradient_bottom_color="" button_gradient_top_color_hover="" button_gradient_bottom_color_hover="" accent_color="" accent_hover_color="" type="" bevel_color="" border_width="" size="" stretch="default" shape="pill" icon="" icon_position="left" icon_divider="no" animation_type="" animation_direction="left" animation_speed="0.3″ animation_offset=""]BOOK YOUR GOLDEN GATE FISHING TRIP ONLINE NOW![/fusion_button]
If you enjoyed this post about South Florida Fishing, you might also enjoy this fishing report from the same area.
Don't forget to follow us on Facebook, YouTube, Twitter and Instagram.
Learn More about Florida Peacock Bass Fishing
Learn More about Naples Bass Fishing