Friends from Indiana Bass Fishing on the Famous Rodman Reservoir
This is Capt Steve with todays fishing report for Rodman Reservoir.
I fished today with Quinn and Brian, a couple Indiana boys and they came down to Florida on vacation and we wanted go fishing on Rodman Reservoir.
They were actually wanting to go artificial fishing, but the water temperature dropped down to around 64 and with the water being really clear it makes for a tough day on artificial.
We did have a couple bites on top water first thing in the morning, but the fish just weren't really interested with the high pressures system on us, but we also decided to troll shiners behind the boat.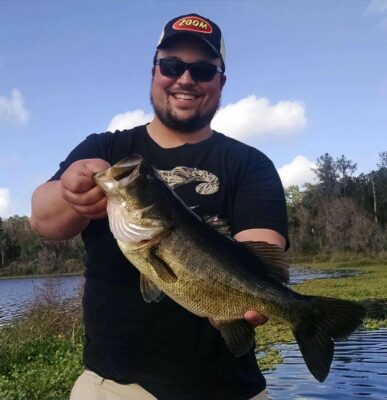 They caught one bass pretty quick on the shiners, and then we drove around for a while hitting additional spots with a couple more bites. We then moved around and finally ended up going fishing in what I call mats (clumps of grass) just floating vegetation. We then started running the shiners underneath those mats and happen to come across a bass bed or two.
Nether of them have ever seen a bass on a bed and never had caught one off of bed. So we rigged a shaky head jig on one of the poles and Brian ended up catching the bass right off the bed. He really thought that was pretty cool. We caught bass up to about 4 pounds, so it was a good day and a lot of fun talking and laughing with to them.
They both fish for the college teams up in Indiana, actually that was something that I had help set up about 30 years ago when I was fishing in Indiana. So it was very interesting talk to them and seeing how things have evolved over the years.
Anyways, this is Captain Steve and for everyone else out there for all your fresh or saltwater fishing adventures go to BassOnline and we will get you out on the water!
[fusion_accordion]
[fusion_toggle title="CLICK HERE TO WRITE A REVIEW" open="no"]

[/fusion_toggle]
[/fusion_accordion]
[fusion_content_boxes layout="icon-boxed" columns="1″ class="" id=""]
[fusion_content_box title="About Capt Steve Niemoeller" backgroundcolor="#b2ce96″ icon="fa-user" iconcolor="#3bbf4a" circlecolor="#ffffff" circlebordercolor="#oooooo" iconflip="yes" iconrotate="" iconspin="" image="/wp-content/uploads/2014/10/steve-50x50color.jpg" image_width="50″ image_height="50″ link="/fishing-guides/north-florida-fishing-guides/" linktarget="_self" linktext="" animation_type="0″ animation_direction="down" animation_speed="0.1]
Captain Steve Niemoeller is a full-time Professional fishing guide and Licensed Master Captain. Primarily servicing the fresh water lakes of the St Johns River, Lake George, and Lake Monroe. He also guides on Harris Chain and Lake Toho. He also has great success on Ponce Inlet and Mosquito Lagoon in saltwater catching red fish and other species.
[/fusion_content_box][/fusion_content_boxes]