First Kissimmee Guided Fishing
When you are looking for a destination that has it all, Kissimmee, FL should be at the top of the list. Kissimmee is a perfect family getaway destination that has all the amusement and outdoor activities you can imagine. Bring your family along on a first Kissimmee guided fishing charter on your next visit to Central Florida.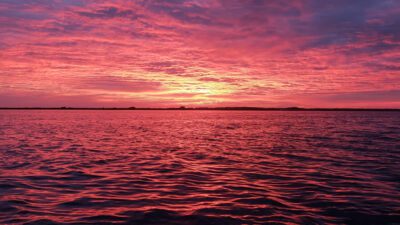 Our local experts not only are highly knowledgeable of the fishing but also really enjoy working together. They love getting to put families on fish all trip long. Whether you are looking for a pontoon charter or looking for the more traditional bass boats, we have you covered. Captain Steve, Brent, and John can put you on the bass especially with artificial or live bait.
Captain Steve Niemoeller and Captain Brent Nelson both were on a two boat trip to start this fishing adventure off. They had the pleasure of fishing with the Hall family. The family was traveling from Illinois and California to Central Florida for some quality family time.
While taking a break from the parks, getting out on the water was a must. Florida Bass Fishing is a great way to adventure in Kissimmee, FL. This was the first time this family has ever been on a guided fishing charter. It was also their first time using live wild-caught shiners to catch fish.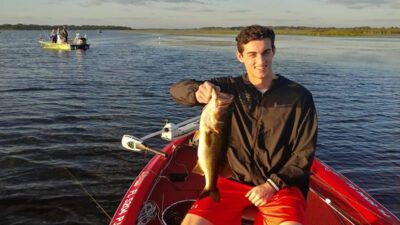 Many people are against fishing with live bait but it is one of the funniest ways to experience Lake Toho Bass Fishing. The action is non-stop and the big bass love to eat. Luckily, when you go out on an adventure with Team Bass Online, you get the opportunity to stay close and enjoy catching bass side by side.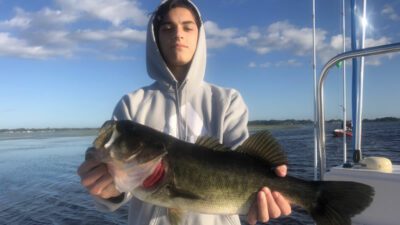 The Hall Family caught some great numbers of bass weighing up to 5.5 pounds. For a family that has never fished this way, they had a great time. It only takes one trip to get you hooked. They will be back for more of this incredible action in the near future. Captain Steve and Brent will be looking forward to getting them back out!
Just shortly after this awesome fishing trip, Captain John Leech adventured out on Lake Toho. He had the pleasure of fishing with Steven and his son. They wanted to come bass fishing here in Kissimmee, FL using only artificial baits. It was an early morning start and luckily the bass wanted to cooperate.
The largemouth bass was schooling and chasing shad in open water. Steven and his son threw soft-plastic flukes and topwater baits to catch a majority of the bass. They had 12 quality bass in the first hour of their trip. After a quick 4-hour fishing trip, they landed 25 largemouth bass and enjoyed every minute.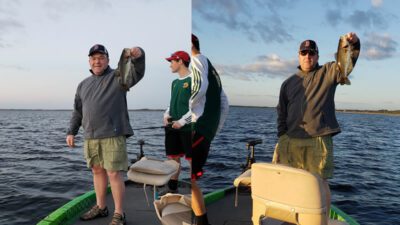 They also caught several bass on shiners. Steve and his son will be back for more of this awesome action on Lake Toho. Captain John is looking forward to their next adventure.
It was not long after this trip that Captain John was back out on Toho. This time, he had the pleasure of fishing with Thomas and his son Cayden. They wanted to come experience and explore what Lake Toho had to offer. Unfortunately, it was not as strong as the last several trips as weather and fishing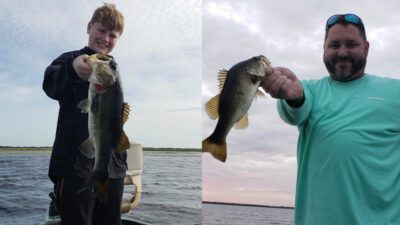 conditions changed.
Thomas and Cayden landed 12 Florida largemouth bass with the biggest weighing in at 3.5 pounds. The wind was blowing hard but they made the best out of it. One of the key methods was using live bait and trolling them out the back of the boat. The wind would move us along and put us in the strike zone.
This father-son duo will be back for more action in the future. Captain John is looking forward to getting them back out there in search for a trophy largemouth bass.
Don't miss out on your fishing adventure. The action is red hot and is only going to get better. Spawning bass are moving into shallow water looking to bed up. If you want that trophy fish, now is the time to come. Our local experts will guide you to an amazing experience! We look forward to seeing you on the water next time.
Come Experience Kissimmee and Catch Yours Today…
[fusion_button link="http://bassonline.com/trips/city/kissimmee/lake-toho/" title="BOOK YOUR LAKE TOHO FISHING TRIP ONLINE NOW!" target="_self" alignment="center" modal="" hide_on_mobile="small-visibility,medium-visibility,large-visibility" class="" id="" color="default" button_gradient_top_color="" button_gradient_bottom_color="" button_gradient_top_color_hover="" button_gradient_bottom_color_hover="" accent_color="" accent_hover_color="" type="" bevel_color="" border_width="" size="" stretch="default" shape="pill" icon="" icon_position="left" icon_divider="no" animation_type="" animation_direction="left" animation_speed="0.3″ animation_offset=""]BOOK YOUR LAKE TOHO FISHING TRIP ONLINE NOW![/fusion_button]
If you enjoyed this post, you might also enjoy this fishing report from the same area.
Don't forget to follow us on Facebook, YouTube, Twitter and Instagram.