Fantastic Bass Fishing Charters
Peacock bass fishing is an incredible outdoor activity when visiting Florida. If you are looking to get hooked up in fresh water on some of the strongest species, you have to travel to Miami. Miami holds some of the best opportunities to get out on fantastic bass fishing charters. You never know what will bite the end of your line.
Our local experts know all you need to know about catching peacock bass in Miami. Captain Robert Miley is one of the most knowledgeable you can fish with. When you get out on the water with him, you are sure to catch that fish you are after. The Falls Canal System is the most productive system to catch this exotic species and can be experienced all year long.
Dan and his buddies were traveling to Miami to get in on some of this incredible bass fishing action while on vacation. They adventured out on a 6 hour fishing trip in the early morning hours. Due to rain delays, they had to wait slightly longer in order to stay dry and enjoy some time on the water. The action was hot and heavy right from the start!
Weather conditions were clear after the rain but the temperatures increased making the day warm. The bass love when the sun is shining and will begin to eat as the sun becomes stronger. Air temperatures were at 93 degrees and water temperatures were at 92. The fish were in deeper water and all schooled up.
Dan and his friends put some great numbers in the boat. The Falls Canal holds some big peacock bass especially the one Dan caught which weighed 5 pounds measuring in at 27 inches. Most of the other bass weighed in at 2-3 pounds. Fish of this caliber will put up a nice fight. These gentlemen also caught largemouth bass as well. When conditions get like this, you sometimes have to fish deeper water especially within the 10-12 foot range. Two of the bigger fish came on artificial top water baits!
You also have to come prepared when fishing in Miami during these late summer months. Bring sunscreen and plenty of water as we went through over 20 bottles on this fishing trip. Captain Miley is looking forward to the next time they get the chance to fish together for another awesome fishing adventure!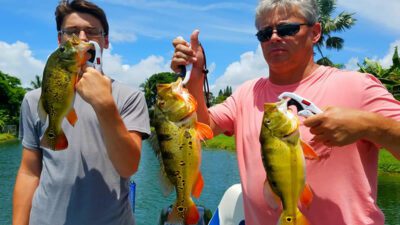 Shortly after this fishing charter, Mike and his son Nick came out fishing with Captain Miley. They adventured out as well on the Falls Canal System. Miami peacock bass fishing is not far from the Florida Keys. That is where Mike and Nick were traveling from while they were on vacation.
Temperatures were slightly cooler during the early morning hours on this fishing trip. It was a quick 4 hour adventure with 10 peacock bass in the boat. The biggest fish weighed in at 4 pounds. Most of the fish weighed roughly 2 pounds. Miami is filled with quality peacock bass. They also caught a largemouth bass weighing between 3-4 pounds.
When you come Miami bass fishing, you are certain to have great time fishing. Captain Miley is looking forward to fishing with Mike and Nick again in the future!
Don't miss out on your fishing adventure next time you visit Florida. You will never forget your time on the water. The peacock bass are about to spawn making for some excellent fishing coming up.
Come Visit Florida and Catch Yours Today
[fusion_button link="http://bassonline.com/trips/city/miami/falls-system/" title="BOOK YOUR FALLS FISHING TRIP ONLINE NOW!" target="_self" alignment="center" modal="" hide_on_mobile="small-visibility,medium-visibility,large-visibility" class="" id="" color="default" button_gradient_top_color="" button_gradient_bottom_color="" button_gradient_top_color_hover="" button_gradient_bottom_color_hover="" accent_color="" accent_hover_color="" type="" bevel_color="" border_width="" size="" stretch="default" shape="pill" icon="" icon_position="left" icon_divider="no" animation_type="" animation_direction="left" animation_speed="0.3″ animation_offset=""]BOOK YOUR FALLS FISHING TRIP ONLINE NOW![/fusion_button]
If you enjoyed this post about South Florida Fishing, you might also enjoy this fishing report from the same area.
Don't forget to follow us on Facebook, YouTube, Twitter and Instagram.
[fusion_text]

About Capt Robert Miley started bass fishing in the Florida Everglades.
The very first trip out he caught a 10lb 0/8 o/z largemouth bass, and has been fishing for bass ever since. Robert Miley has been fishing professionally on the B.A.S.S. Eastern Division, for the past 7 years. He also is the Bass Pro Shops Pro Staff representative for South Florida. Versatile in that he fishes for Peacock bass as well as trophy largemouth on Lake Okeechobee.
[/fusion_text]