Family Florida Pontoon Charters
If there is one moment or thing that people cherish highly, it has to be family time. We live for our families and all the joy that they provide. Travelers from across the globe come to Central Florida to celebrate and enjoy their families. Most partake in the endless theme parks, but some truly get the full Kissimmee Florida Experience. When visiting Central Florida, getting out in the outdoors and nature is a must. Hop on board for our family Florida pontoon charters where we can get you on largemouth bass all trip long.
A pontoon boat is one of the best ways to get out on the water. This comfortable ride comes equipped with space and a local expert to show you around. Whether you want to fish or go sightseeing, our local experts have you covered. You will get the opportunity to experience Florida in a way you couldn't have imagined. The pontoon boat can help get everyone on board and out on the water.
Check out what a Florida Pontoon Charter would be like for your family:
Mitchell was traveling from Texas with his family looking to explore all that Central Florida had to offer. Captain Steve Niemoeller had the pleasure of taking them on an adventure through the Butler Chain of Lakes. If you are looking for a remote urban feel, this is your fishery. Large homes and great bass fishing will keep everyone on board excited and active.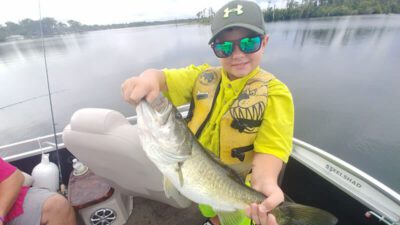 Mitchell wanted to surprise his grandsons with a fishing trip. Keeping and getting our kids fishing is so important to the future of the sport. A trip like this can launch a lifelong obsession to catch fish. Mitchell also brought along his son and daughter-in-law.
They had a great time catching bass on this fishing trip. The most productive method to catch bass on the Butler Chain, especially during these warm months would be wild-caught live shiners. Watching the bait and catching numbers of bass is an exciting introduction to fishing for the youth. Mitchell's grandson caught the biggest fish weighing in close to 3.5 pounds.
Captain Steve is looking forward to showing this wonderful family around Central Florida again in the near future!
Just shortly after this fishing trip, Chris and Kim brought their family on a fishing adventure they will never forget. Captain Steve had the pleasure of fishing with Chris, Kim, and their 3 sons, Nelson, Lewis, and Andres. They were traveling from Colorado spending time in Kissimmee, FL. While taking a break from the theme parks, they wanted to hop on board and go fishing on Lake Toho.
The main target of interest was largemouth bass but the bream fishing all came into play. When you are travel.ing to Central Florida during the summer months, you can have fun catching numbers of different species. They also got to experience wildlife from birds to alligators on this fishing trip. There is so much to experience right around the corner from the urban playground Disney has built.
Everyone on board had a blast catching bass with live bait. Whether it was shiners, crickets, or worms, the fishing was fantastic on this fishing trip. Chris and his family are looking forward to coming back down to Central Florida and experience more of what it can offer while Lake Toho Bass Fishing.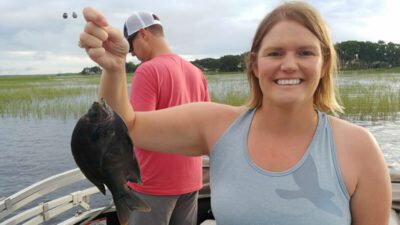 Don't miss out on the BEST part of your family vacation. When you are visiting Central Florida, you have to get on the water and hook into a fish. You can also just sit back, enjoy, and soak up the sun while being surrounded by wildlife and beautiful scenery. Don't be afraid to try both. If you are looking for an unforgettable experience, our local experts can make it happen for you on the pontoon boat.
Come Visit Central Florida and Catch Yours Today…
[fusion_button link="http://bassonline.com/florida-fishing/orlando/" title="BOOK YOUR CENTRAL FLORIDA FISHING TRIP ONLINE NOW!" target="_self" alignment="center" modal="" hide_on_mobile="small-visibility,medium-visibility,large-visibility" class="" id="" color="default" button_gradient_top_color="" button_gradient_bottom_color="" button_gradient_top_color_hover="" button_gradient_bottom_color_hover="" accent_color="" accent_hover_color="" type="" bevel_color="" border_width="" size="" stretch="default" shape="pill" icon="" icon_position="left" icon_divider="no" animation_type="" animation_direction="left" animation_speed="0.3″ animation_offset=""]BOOK YOUR CENTRAL FLORIDA FISHING TRIP ONLINE NOW![/fusion_button]
If you enjoyed this post, you might also enjoy this fishing report from the same area.
Don't forget to follow us on Facebook, YouTube, Twitter and Instagram.
Learn More About Pontoon Fishing Charters
[fusion_text]

About Captain Steve Niemoeller is a full-time Professional fishing guide and Licensed Master Captain. Primarily servicing the fresh water lakes of the St Johns River, Lake George, and Lake Monroe. He also guides on Harris Chain and Lake Toho. He also has great success on Ponce Inlet and Mosquito Lagoon in saltwater catching Redfish and other species. Learn more at