Everglades Bass Fishing Reports
Are you looking to catch more bass than you can handle? Would you like to experience topwater action all trip? Are you looking to only fish with artificial baits? The Florida Everglades is your destination. Right now, the Everglades is on fire and the bite has been steady all trip long. Enjoy this Everglades Bass Fishing Report with our Local Experts and Professionals.
When it comes to Everglades Bass Fishing, you have to know where and what to throw. The Everglades is a vast system of canals and grass that can get very confusing. If you are looking for a fantastic time in the glades, get out with one of our local experts. They will take care of everything for you from rigging to unhooking your fish and taking you to all the hot spots.
Here is a bass fishing report from our local experts:
Captain George Mrozinski had the pleasure of fishing with Mark and Jeff. They were traveling to South Florida from Tennessee on vacation and wanted to explore what the Everglades had to offer. Captain George took them on an adventure out of Holiday Park located in Fort Lauderdale, FL.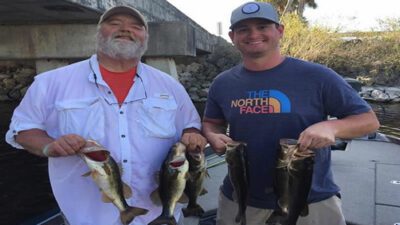 Mark and Jeff spent 6 hours in the Everglades catching the most fish they ever have. The topwater bite was on from the first cast. These gentlemen caught over 50 fish on topwater baits, wacky worms, flukes, frogs, and more.
They will be back for more of this incredible fishing action in the near future! Captain George is looking forward to getting them on bigger and more fish.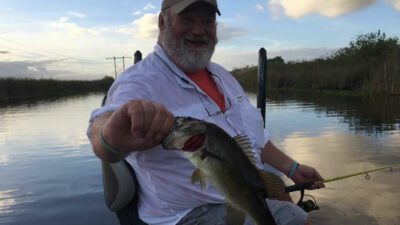 Just shortly after this trip, Captain George explored Holiday Park again. This time, he had the pleasure of fishing with Grandpap Don and his grandson Ryan along with his son-in-law Mark. They were visiting from Chicago looking to explore the Florida Everglades after largemouth bass.
It was another 6-hour fishing adventure with artificial baits. Whether you want to throw soft plastics or hard baits, they all can help put bass in the boat along with a variety of other species. Don, Ryan, and Mark crushed the largemouth bass along with alligator gar, Oscars, warmouth and many more species. You truly can't beat the wildlife here in Florida and the number of species you can catch on one trip.
This wonderful family will be back for more action in the near future! Captain George is looking forward to getting them back out there.
It was not long until another Local Expert explored a different destination in the Everglades. Captain Joe Gruny had the pleasure of fishing with a repeat client, Shawn Singer. Shawn loves to come out bass fishing whether on Lake Okeechobee or in the Everglades. This time, they explored the Everglades for largemouth bass along Alligator Alley.  
Shawn caught over 25 largemouth bass in his quick 4-hour fishing trip. Artificial baits dominated the action on this trip. Even though Shawn is camera shy, he landed several quality largemouth bass. The most productive baits on this fishing adventure were soft plastic worms and topwater poppers.
Shawn had a fantastic time catch the largemouth bass up. He will be back for another adventure most likely on Lake Okeechobee in the near future!
Just shortly after this fishing trip, Captain Joe adventure back out on Alligator Alley for more action. This time, he had the pleasure of fishing with Big Mike and his son Little Mike. Big and Little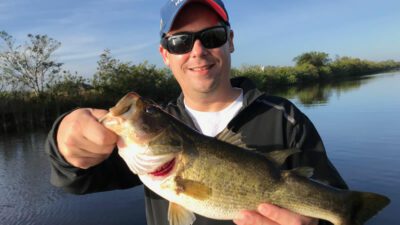 Mike was looking to explore what Florida Bass Fishing had to offer. The action was hot and heavy from the first cast.
Artificial worms, frogs, and topwater poppers came in strong on this trip. Mike and Mike adventured out on a quick 4-hour fishing adventure landing over 20 largemouth bass. The biggest fish weighed 2.5 pounds. Big and Little Mike loved this fishing adventure and are looking forward to their next one in the near future.
Captain Joe is excited to get the chance to get them on some peacock bass on their next trip!
Last and Finally, Captain Nick Pasquarello adventured on the Alligator Alley near Naples, FL. He had the pleasure of fishing with Larry Wortzel, who was traveling from Virginia looking to explore the Florida Everglades. They had a cold start to the morning but once the sun warmed things up, it was game on!
Larry really enjoyed the bass fishing along Alligator Alley. He landed over 30 largemouth bass weighing up to 3 pounds. For a quick 4-hour fishing adventure, this was a great day on the water. Larry threw artificial lures from soft plastic senkos to topwater walking baits.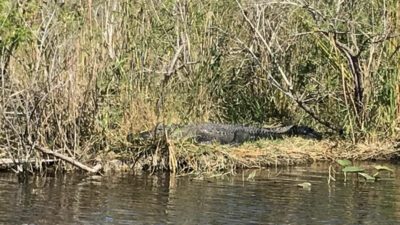 Larry is looking forward to another great time on the water with Captain Nick!
If you are looking for an awesome time bass fishing, the Florida Everglades is your location. Throw artificial baits all trip long while setting the hook more times than you can count. All our locations have been successful and productive to get you on the bass you are after. We look forward to seeing you on the water next time!
Come Visit Florida and Catch Yours Today
[fusion_button link="http://bassonline.com/florida-lakes/everglades-holiday-park/" title="BOOK YOUR EVERGLADES FISHING TRIP ONLINE NOW!" target="_self" alignment="center" modal="" hide_on_mobile="small-visibility,medium-visibility,large-visibility" class="" id="" color="default" button_gradient_top_color="" button_gradient_bottom_color="" button_gradient_top_color_hover="" button_gradient_bottom_color_hover="" accent_color="" accent_hover_color="" type="" bevel_color="" border_width="" size="" stretch="default" shape="pill" icon="" icon_position="left" icon_divider="no" animation_type="" animation_direction="left" animation_speed="0.3″ animation_offset=""]BOOK YOUR EVERGLADES FISHING TRIP ONLINE NOW![/fusion_button]
If you enjoyed this post about South Florida Fishing, you might also enjoy this fishing report from the same area.
Don't forget to follow us on Facebook, YouTube, Twitter and Instagram.