Christmas present for him on Lake Okeechobee
Hey Everybody, this is Capt Brian Brown with your Lake Okeechobee fishing report.
Today I had Robert Seeger out on the water, and the day started a little slow; it was cool, a little windy, and cloudy in the morning. We had to check out a few different spots and finally ran into the right one; we caught a couple of nice 4-and-a-half-pound fish.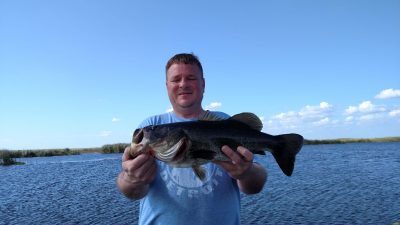 An overall good way to start the Christmas weekend, a Christmas present for him, and just a great time on the water weather won't turn out beautiful. There will be no trips over Christmas there for the New Year, and hopefully, we can get you out on the water soon. To get you on a lifetime journey, maybe even that fish of a lifetime, get it quickly booked.
Until next time to state lines, Captain Brian Brown.
Capt Brian Brown is a seasonal full-time bass fishing guide; he is also your go-to Crappie fishing guide on Lake Okeechobee. With over 20yrs of experience, Brian can help you understand the movements of fish, and understand how to read your electronics as well as helping you choose the proper tackle to use for your next fishing trip. So if you are ready for a fun day on the water with great fishing tips thrown in, Capt Brian could be the guy for you.