Calvin Laid into a Beautiful Personal Best 7 Pound Trophy Bass
Hey Everybody this is Capt Brian Brown with your Lake Okeechobee fishing report.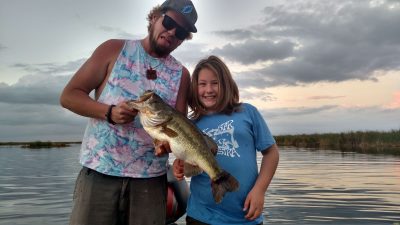 We just got off Lake Okeechobee here with my afternoon trip. I had Richard and son Calvin out, we started out a little bit slow as we will see sometimes in the early afternoon. This trip was from 12 pm to 6 pm, so the first couple of hours were slow on us. We moved around a lot just looking and digging in and checking all kinds of spots and nothing seem to be panning out for us. So I suggested we make a little move, so we ran to a different part of the lake and set up on a hard wall of reeds. We immediately started chipping away at them, as time passed we got on them and made a good run.
After we caught one or two fish and us kind of figured out what the school was doing and what it was taking to get bit. In return, we then started burning through the Shriners pretty quickly.
It safe to say, they certainly were wondering how the day was going to go after the one or two hours. Things quickly changed, as Calvin laid into a beautiful personal best 7-pound trophy bass. After that, the faucet pretty much opened up with fish after fish. The key was we got some cloud cover that came in and I think that really helped out the sun at that time of the day.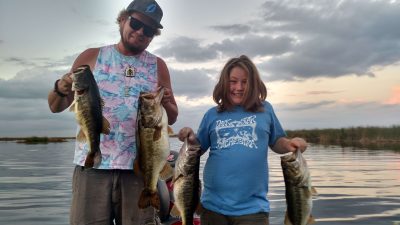 But they had an awesome father-son time out there today. It's just a blast when you see everyone having a great time, probably the best part of this job is and time with great families and watching them making memories. Spending quality time with great people, it was great fishing, the weather turned out awesome, and what a Christmas presents of those guys!
Anybody else looking to get out with her fathers, sons, or daughters it's good for the whole family. Look us up at BASSONLINE.COM if we can get you out on the water and hopefully get you a trip of a lifetime. Till next time, tight lines from Capt Brian Brown.
If you enjoyed this fishing report you might like this fishing report on Lake Okeechobee.
Don't forget to follow us on Facebook and Instagram.
Capt Brian Brown is a seasonal full-time bass fishing guide, he is also your go-to Crappie fishing guide on Lake Okeechobee. With over 20yrs of experience, Brian can help you understand the movements of fish, understand how to read your electronics. As well as helping you choose the proper tackle to use for your next fishing trip. So if you are ready for a fun day on the water with great fishing tips thrown in, Capt Brian could be the guy for you.