Blue Lagoon Fishing Charter
Do you ever have the question: "Where can I catch exotics in Florida?" Miami, FL is a Mecca for freshwater exotic fishing. If you are looking for the exotic peacock bass and don't want to travel to the Amazon, urban Miami is the way to go. When you are visiting next, be sure to cash in on our Blue Lagoon fishing charters.
The exotic peacock bass can be quite fun to catch, once you find them. You never know what you are going to find out in the urban waters of Miami. Most of the time, you are going to hook into the colorful exotic peacock bass. One of the most productive ways to do so is with a local expert. Captain Robert Miley has years of experience fishing for bass here in Miami and will put you on the biggest bass of your life.
Captain Miley had the pleasure of fishing with his longtime client and friend Sandy. Sandy brought his good friend and golfing buddy Rick. They wanted to change up the pace and explore what bass fishing had to offer. Sandy is from Chicago and travels to warm sunny Florida to escape the cold. Miami's Blue Lagoon or Airport Lakes was a great option for them.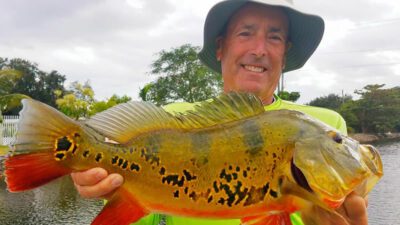 Weather is a major predictor to your success on the water. If we are experiencing cold fronts, peacock bass dive into deep waters. No need to worry because Captain Miley will still put you around them. The only thing you have to worry about is having the patience to wait for them to surface.
Once the sun came out behind the clouds, the action started to pick up. Water temperatures rose to about 73 degrees once the sun came out. Sandy and Rick focused in on the 12-19 ft of water range where the bass were swimming. The bass were close to the pilings and bridges that radiated heat. They caught a handful of bass with the biggest weighing close to 4 pounds.
When you catch a big bass like that it makes up for all the time trying to find them. Sandy and Rick are looking forward to their next opportunity to explore peacock bass fishing in the future!
Just shortly after that fishing adventure, Captain Miley explore the Lagoon again. This time, he had the pleasure of fishing with Donald and his son Philip and son-in-law Joshua. It was an early morning fishing trip with a lot of great action.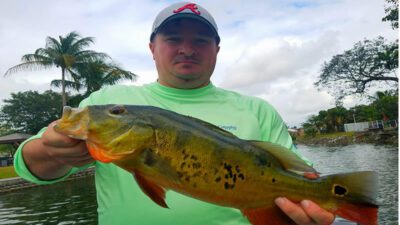 Water temperatures maintained at 73 degrees right from the start. These temperatures promoted a consistent bite and feeding pattern. Once the rain moved in, the bite shut off. Before this though, Philip and his family caught 20 nice peacock bass weighing up to 4 pounds.
You never know how a day of fishing will turn out. It is one of the reasons that we consistently explore the waters for new opportunities. This wonderful family will be back for more action in Miami, FL. Captain Miley is looking forward to their next adventure.
Don't miss out on your adventure while visiting this beautiful place. The bass are biting and will continue to bite. Weather has been perfect for a great day on the water. Bring your family along for a fishing adventure of a lifetime. We are looking forward to seeing you on the water next time!
Come Visit Florida and Catch Yours Today
[fusion_button link="http://bassonline.com/trips/city/miami/airport-lakes/" title="BOOK YOUR AIRPORT LAKE FISHING TRIP ONLINE NOW!" target="_self" alignment="center" modal="" hide_on_mobile="small-visibility,medium-visibility,large-visibility" class="" id="" color="default" button_gradient_top_color="" button_gradient_bottom_color="" button_gradient_top_color_hover="" button_gradient_bottom_color_hover="" accent_color="" accent_hover_color="" type="" bevel_color="" border_width="" size="" stretch="default" shape="pill" icon="" icon_position="left" icon_divider="no" animation_type="" animation_direction="left" animation_speed="0.3″ animation_offset=""]BOOK YOUR AIRPORT LAKE FISHING TRIP ONLINE NOW![/fusion_button]
If you enjoyed this post about South Florida Fishing, you might also enjoy this fishing report from the same area.
Don't forget to follow us on Facebook, YouTube, Twitter and Instagram.
Learn More about Florida Peacock Bass Fishing
[fusion_text]

About Capt Robert Miley started bass fishing in the Florida Everglades.
The very first trip out he caught a 10lb 0/8 o/z largemouth bass, and has been fishing for bass ever since. Robert Miley has been fishing professionally on the B.A.S.S. Eastern Division, for the past 7 years. He also is the Bass Pro Shops Pro Staff representative for South Florida. Versatile in that he fishes for Peacock bass as well as trophy largemouth on Lake Okeechobee.
[/fusion_text]