Two Kissimmee Bass Fishing Trips
Kissimmee is the ultimate bass fishing destination in Central Florida. Lake Toho is a highly productive fishery all year round. If you are looking to catch big bass in Florida, this is the lake to fish. Our professional and expert fishing Captains know the waters and where the big bass live. Come adventure out on two Kissimmee bass fishing trips next time you are experiencing Kissimmee Florida. You will not be disappointed with what it has to offer.
Captain Brent Nelson is one of the BEST Lake Toho guides you can experience the lake with. Brian and Sonya adventure out on a fantastic Lake Toho Bass Fishing trip with Captain Brent. This lake can produce on both wild caught live shiners and artificial baits. If you are an angler that loves to fish artificial baits but also enjoys experiencing live bait, Lake Toho is your lake.
Brian and Sonya put on a show this morning with over 30 Florida largemouth bass in the boat. Not only did they catch great numbers they also caught several quality bass. Sonya landed a giant bass weighing 7 pounds. You cannot beat that action for a quick morning fishing charter. Bass were biting steady the whole fishing trip.
After the wild caught live shiner bite slowed down, they picked up the artificial baits. Brian and Sonya both worked on catching several more quality bass with Bass Assassin Senkos, flukes and speedworms. These are the most effective artificial soft plastic baits you can use while Kissimmee Bass Fishing.
Brian and Sonya had a fantastic time with Captain Brent and are looking forward to adventuring out again in the future.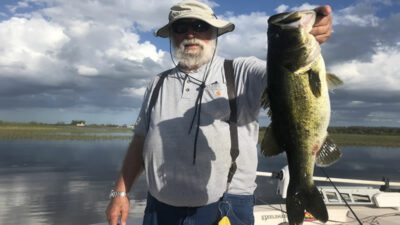 On Captain Brent's afternoon trip on Lake Toho, Euyless and Pat came to crush some largemouth bass on the lake. Traveling from Alabama, they were ready for a great day on the water. Their goal was to catch some Florida Treasures that were green and fishy. Wild caught live shiners were yet again the most effective bait on this fishing trip.
The bite slowed down quite a bit from the morning trip. These gentlemen with Captain Brent's knowledge of the lake still managed to land 15 largemouth bass weighing up to 4.75 pounds. They were excited to land some quality bass and had a great time on the water. Next time visiting Kissimmee, they will be back for redemption.
When you want to truly experience what Kissimmee has to offer, don't look any further than Lake Toho Bass Fishing. Take a break from all the attractions and get out on the water with some of the best. Bass Fishing here in Kissimmee will get you hooked and ready to come back as soon as you can. Don't miss out on your adventure next time visiting and we will get you hooked up on a fishing trip of a lifetime!
Come Experience Kissimmee and Catch Yours Today…

[fusion_button link="http://bassonline.com/trips/city/kissimmee/lake-toho/" title="BOOK YOUR LAKE TOHO FISHING TRIP ONLINE NOW!" target="_self" alignment="center" modal="" hide_on_mobile="small-visibility,medium-visibility,large-visibility" class="" id="" color="default" button_gradient_top_color="" button_gradient_bottom_color="" button_gradient_top_color_hover="" button_gradient_bottom_color_hover="" accent_color="" accent_hover_color="" type="" bevel_color="" border_width="" size="" stretch="default" shape="pill" icon="" icon_position="left" icon_divider="no" animation_type="" animation_direction="left" animation_speed="0.3″ animation_offset=""] BOOK YOUR LAKE TOHO FISHING TRIP ONLINE NOW![/fusion_button]

If you enjoyed this post about Two Kissimmee Bass Fishing Trips, you might also enjoy this fishing report from the same area.
Don't forget to follow us on Facebook, YouTube, Twitter and Instagram.

[fusion_text]

About Capt Brent Nelson grew up in North Georgia and had a love of all things outdoors from a very young age. Always wanting to share his love of fishing, nature, and wildlife with others he pursued a career as a licensed captain and is now certified through the U.S. Coast Guard as well as a carries a Sea Tow endorsement. Brent has been very Blessed to have fished in Various Bass Fishing Clubs, Fishing Tournaments and Charity Events over the past 27 years helping and preparing him with gaining guide experience. [/fusion_text]