Early Kissimmee Fishing Charter
Kissimmee, Florida is the ultimate travel destination. If you want to spend time in the outdoors, Kissimmee should be considered. A early Kissimmee fishing charter will provide ample opportunity to catch a quality largemouth bass. Take a break from the parks and attractions and get out on the water with one of our local experts on Lake Toho.
Lake Toho Bass Fishing is the highlight of Kissimmee. You can catch numbers of great bass all year long. Our local experts have years of experience on the lake. If you want to get on bass all trip long, you have to get out with Captain John Leech or Brent Nelson. They will not only show you a great time but they will educate you on the best techniques to catch bass.
Captain John Leech had the pleasure of fishing with Chris White on Lake Toho. Chris was looking for some excellent bass fishing in Central Florida. When you adventure out in Kissimmee, you may catch the biggest bass of your life. Every time you go fishing here, you are destine to have the best fishing trip possible. Chris can surely attest to that!
Chris adventured out on a super early fishing charter. During this time of year, the bass begin to bite early. Chris caught some big bass right off the bat. It was a great day on the water with beautiful weather. Captain John put Chris on the biggest bass he had ever caught. He caught his personal best bass 3 different time during this trip. It started with a 4 pounder, then it was a 5 pounder and after that he caught one just shy of 6 pounds. Artificial and live baits were successful on this fishing trip. Chris caught his biggest bass on artificial baits.
Captain John is looking forward to the next opportunity to get in on the action again next time!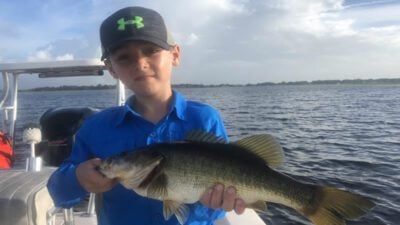 Just shortly after this fishing trip, Captain Brent Nelson had the pleasure of fishing with Alan and his six year old son Owen. They had a fantastic morning on the water. Lake Toho Bass Fishing produced yet again another amazing fishing trip. Alan and Owen wanted to strictly fish artificial baits.
Fishing conditions changed the day before this fishing trip and Captain Brent made sure that he had some live bait on this trip just in case. Alan and Owen worked really hard to catch some bass with artificial baits. After a couple hours throwing artificial baits with no luck, they switched over to live bait. They ended up stealing the show and put some quality largemouth bass in the boat.
Alan and Owen had a blast catching bass with Captain Brent. They caught fish up to 3 pounds. Also, they are looking forward to getting back on the water on Lake Toho to cash in on the action next time.
Lake Toho Bass Fishing is getting stronger every day. Season is right around the corner. If you want to catch some big bass, now is your time to book. You never know what you will encounter but one thing is for certain, you will learn some things about Florida Bass Fishing. Don't miss out on your adventure this Holiday and we look forward to seeing you on the water next time!
Come Experience Kissimmee and Catch Yours Today…
[fusion_button link="http://bassonline.com/trips/city/kissimmee/lake-toho/" title="BOOK YOUR LAKE TOHO FISHING TRIP ONLINE NOW!" target="_self" alignment="center" modal="" hide_on_mobile="small-visibility,medium-visibility,large-visibility" class="" id="" color="default" button_gradient_top_color="" button_gradient_bottom_color="" button_gradient_top_color_hover="" button_gradient_bottom_color_hover="" accent_color="" accent_hover_color="" type="" bevel_color="" border_width="" size="" stretch="default" shape="pill" icon="" icon_position="left" icon_divider="no" animation_type="" animation_direction="left" animation_speed="0.3″ animation_offset=""]BOOK YOUR LAKE TOHO FISHING TRIP ONLINE NOW![/fusion_button]
If you enjoyed this post, you might also enjoy this fishing report from the same area.
Don't forget to follow us on Facebook, YouTube, Twitter and Instagram.