Summer Lake Toho Bass Fishing
Bass Fishing in the summer time is truly something worth experiencing. Many would expect that when the temperatures rise, the bass fishing is worse but that's not true this summer. Summer Lake Toho bass fishing has been excellent with great numbers and catches. July is the perfect month to get out on the water with your family or loved ones and create long lasting memories.
Lake Tohopekaliga is one of the BEST bass fishing lakes in Central Florida. Kissimmee is the perfect destination to take your family for amazing fishing along with great bass fishing. Whether you are looking to enjoy the theme parks or get in the outdoors, Kissimmee has it all. Come experience Kissimmee and make sure you keep in mind the excellent fishing you can explore.
Our local experts are highly knowledgeable of where and how to fish for largemouth bass in Central Florida. Captain Brent Nelson has years of experience fishing this amazing lake in Kissimmee. As lake levels continue to drop and rise, you are able to key in on locations that are producing the best.
Gerald and Dave were traveling from Kentucky for a morning of Lake Toho bass Fishing. Visiting Kissimmee and hearing about how amazing this fishery was they had no other option but to have a great day on the water. The bass were biting which made the trip very exciting.
They boated over 35 bass on their fishing charter up to 5.5 pounds. Wild caught live shiners were the most effective bait but they also caught them up on artificial baits as well. Speed worms, swim jigs and flukes will help produce the best bite. Captain Brent advised throwing these baits in clean water over isolated vegetation.
Gerald and Dave are looking forward to fishing with Captain Brent again in the future!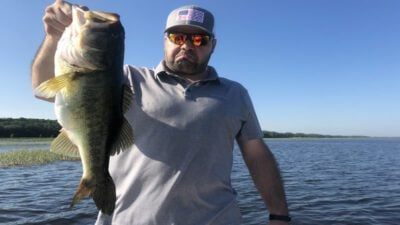 It was not long after this amazing fishing trip that Captain Brent went out for another beautiful day on Lake Toho. Newlyweds Angelo and Sarah were traveling to Kissimmee to enjoy some vacation time. While they were here, bass fishing was the perfect way to get in the outdoors. Lake Toho bass fishing was the perfect match for them.
The action was hot and heavy catching Florida largemouth bass on wild caught live shiners and artificial baits. They caught some quality bass with wild shiners early in the morning managing to catch bass up to 6 pounds. After running out of live bait, they started to throw senkos and flukes landing fish in the 4 pound class range. Clear water and hydrilla was the key to landing these bass.
Captain Brent is looking forward to another great time on the water with Angelo and Sarah.
Paul, Matt and Bobby were traveling from New Jersey looking for some Summer Lake Toho Bass Fishing in Kissimmee. They wanted to explore what Lake Toho Bass Fishing had to offer them. It was a great morning of fishing with Captain Brent with artificial and live baits.
These gentlemen spent a quick 6 hours on Lake Toho catching some quality largemouth bass. They boated over 30 fish using both techniques. After using up the live wild caught shiners, the speed worms, senkos and flukes came to life. Throwing these artificial baits over sparse Kissimmee grass helped boat most of the fish!
Paul, Matt and Bobby will be back soon for more action on this incredible lake with plenty of bass fishing still to conquer. Captain Brent will be looking forward to fishing with them!
One of the best ways to experience Kissimmee is with your family. Getting out on the water makes all the difference when it comes to quality family time. Ram brought his family exploring on Lake Toho this summer. You never know what you will see or catch when fishing this amazing place.
Ram and his family caught twenty largemouth bass with the largest being 5 pounds. Live bait was the most effective and best way to catch bass with your family. When the action is hot, make sure you explore all the fishing you can. Captain Brent is looking forward to fishing with Ram and his family again in the future.
Kissimmee and Central Florida are bass fishing heavens. You can catch quality bass all year round on a variety of different lakes. Lake Toho Bass Fishing is some of the best though with multiple areas on the lake that holds quality fish. If you are looking for some bonding time with your loved ones, get out on the water and go fishing.
We look forward to seeing you on the water next time!
Come Experience Kissimmee and Catch Yours Today…
[fusion_button link="http://bassonline.com/trips/city/kissimmee/lake-toho/" title="BOOK YOUR LAKE TOHO FISHING TRIP ONLINE NOW!" target="_self" alignment="center" modal="" hide_on_mobile="small-visibility,medium-visibility,large-visibility" class="" id="" color="default" button_gradient_top_color="" button_gradient_bottom_color="" button_gradient_top_color_hover="" button_gradient_bottom_color_hover="" accent_color="" accent_hover_color="" type="" bevel_color="" border_width="" size="" stretch="default" shape="pill" icon="" icon_position="left" icon_divider="no" animation_type="" animation_direction="left" animation_speed="0.3″ animation_offset=""]BOOK YOUR LAKE TOHO FISHING TRIP ONLINE NOW![/fusion_button]
If you enjoyed this post about Summer Lake Toho Bass Fishing, you might also enjoy this fishing report from the same area.
Don't forget to follow us on Facebook, YouTube, Twitter and Instagram.