St Johns River was Dragging Shiners, mainly Trolling the Shiners
This is Capt Steve with todays fishing report for the St Johns River
Fishing was pretty slow this morning when we first started out, we had a bit of cloud cover at 1st which didn't help because it was pretty cool out. Things were a little bit slow, but we ended up getting one of my first spot, which I had hope to be a lot better than that…I guess that's life of a guide! But I went to the next spot, the sun came out and notice a bit of change in the bite. Then we went to the third spot and that's where it turned on for us.
[fusion_content_boxes layout="icon-boxed" columns="1″ class="" id=""]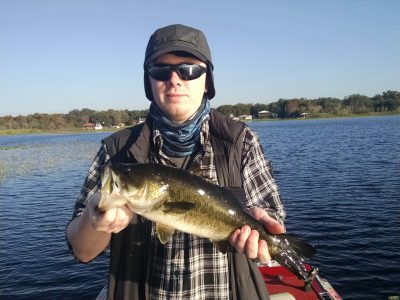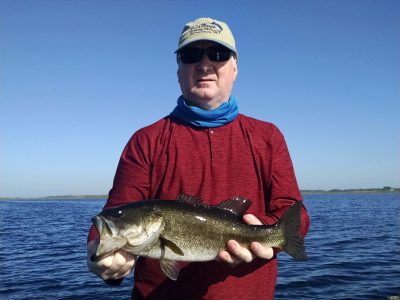 [/fusion_content_boxes]
We ended up at this spot for a little bit, at some points we were even catching two at a time. While things turned around for us we didn't end up with a whole bunch of fish today, but we caught quite a few.
It was a good day, once the sun came out and warmed the place up it was very enjoyable. Our technique today on St Johns River was dragging shiners, mainly trolling the shiners behind the boat and then whenever we would catch one, we would put the Talons down and set right there and see how many more were around. Like I said, there was a couple times where we would catch doubles so it ended up being a pretty fun day.
I'm glad these guys came over from the UK, and I think they were most excited just to be out of that cold weather over there. Look forward to having them guys come back to see us again sometime. They really like to do saltwater fishing over on the coast, this was the first time they ever went bass fishing in their life. So, I hope Trevor and Callon come back and see me again for more bass fishing, maybe do a little bit of saltwater fishing as well.
Again this is Captain Steve, for all you're freshwater and saltwater fishing adventures go to BASSONLINE.COM and we will take care everything for you.
If you enjoyed this post about Naples bass fishing you might also enjoy this fishing report from the same area.
Dont forget to follow us on Facebook and Instagram.
[fusion_accordion]
[fusion_toggle title="CLICK HERE TO WRITE A REVIEW" open="no"]

[/fusion_toggle]
[/fusion_accordion]
[fusion_content_boxes layout="icon-boxed" columns="1″ class="" id=""]
[fusion_content_box title="About Capt Steve Niemoeller" backgroundcolor="#b2ce96″ icon="fa-user" iconcolor="#3bbf4a" circlecolor="#ffffff" circlebordercolor="#oooooo" iconflip="yes" iconrotate="" iconspin="" image="/wp-content/uploads/2014/10/steve-50x50color.jpg" image_width="50″ image_height="50″ link="/fishing-guides/north-florida-fishing-guides/" linktarget="_self" linktext="" animation_type="0″ animation_direction="down" animation_speed="0.1]
Captain Steve Niemoeller is a full-time Professional fishing guide and Licensed Master Captain. Primarily servicing the fresh water lakes of the St Johns River, Lake George, and Lake Monroe. He also guides on Harris Chain and Lake Toho. He also has great success on Ponce Inlet and Mosquito Lagoon in saltwater catching red fish and other species.
[/fusion_content_box][/fusion_content_boxes]