Repeat Customers From Tennessee Bass Fishing With Capt Steve
This is Capt Steve with the fishing report for the St Johns River
I took a longtime customer of mine Jim and his grandson Paxton from Tennessee out on the river. They stay here at castaways every year and I enjoy them guys coming back and fishing, and we'll catch up on what's been going on over here and over there, and its a lot of fun and laughs and catching fish. Fishing was a little tougher this year than what I thought it should have been for whatever reason.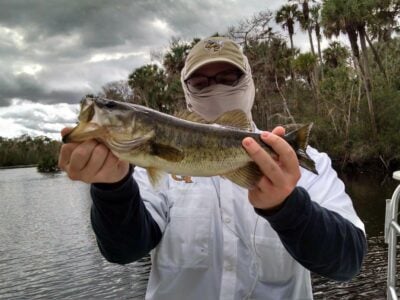 We did end up catching a few each day and had a real good time. We went and caught ourselves a lunch from of the restaurant there on the river. So we just got to spend some time together and it's always fun to have repeat customers come back every year that you have a real good friendship with and these guys are real good friends and hopefully will be for a long time to come. We were mainly fishing the Saint Johns River there. We did go up to lake George one day, but mostly we stayed down south. I guess we had fish up to about 3 pounds 3 1/2 pounds. We did have a front come in on the last day they were here and right before the front came fishing was pretty good, but then after the front came through around 1:30 or so it just kind of slowed down But like I said we had a good time, and I look forward to them guys coming back again and seeing me next year.
This is Captain Steve for all your fresh or saltwater fishing adventures and trips go to BassOnline We will take care of it for you. Thank you.
[fusion_accordion]
[fusion_toggle title="CLICK HERE TO WRITE A REVIEW" open="no"]

[/fusion_toggle]
[/fusion_accordion]
[fusion_content_boxes layout="icon-boxed" columns="1″ class="" id=""]
[fusion_content_box title="About Capt Steve Niemoeller" backgroundcolor="#b2ce96″ icon="fa-user" iconcolor="#3bbf4a" circlecolor="#ffffff" circlebordercolor="#oooooo" iconflip="yes" iconrotate="" iconspin="" image="/wp-content/uploads/2014/10/steve-50x50color.jpg" image_width="50″ image_height="50″ link="/fishing-guides/north-florida-fishing-guides/" linktarget="_self" linktext="" animation_type="0″ animation_direction="down" animation_speed="0.1]
Captain Steve Niemoeller is a full-time Professional fishing guide and Licensed Master Captain. Primarily servicing the fresh water lakes of the St Johns River, Lake George, and Lake Monroe. He also guides on Harris Chain and Lake Toho. He also has great success on Ponce Inlet and Mosquito Lagoon in saltwater catching red fish and other species.
[/fusion_content_box][/fusion_content_boxes]