Peacock Bass In Palm Beach
Hello, this is Capt Robert Miley. I'm just leaving Lake Ida.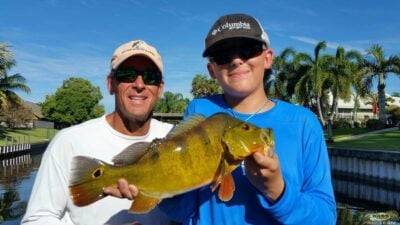 My crew had a 6-hour trip, but I guess they caught enough fish, so we called it at 4 hours. They saw some really nice fish. The bite started a little slow; the fish was really sluggish, and the bite was really light.
We ended up with 12 and had four really nice ones between 4 and 5 pounds. I fished with Mike and Chad, and we had a blast. This was their first time fishing for peacock, and we had some fun. We had a little trouble when we hooked up around some fixtures, but we got them in. We also caught some sunshine bass, not striped bass, but a local hybrid.
That's it for now; for all your freshwater fishing adventures, go to BassOnline. Thank you.
Capt Bob Miley started bass fishing in the Florida Everglades.
On the first trip to Peacock Bass in Palm Beach, he caught a 10lb 0/8 o/z largemouth bass and has been fishing for bass ever since. Robert Miley has been fishing professionally on the B.A.S.S. Eastern Division for the past seven years. He also is the Bass Pro Shops Pro Staff representative for South Florida. He is versatile because he fishes for Peacock bass and trophy largemouth on Lake Okeechobee.