October Bass Fishing Charter in Florida
October was a great month for bass fishing on Lake Okeechobee. November will be even better as the weather gets cooler and the big bass starts to move in. When you are visiting Florida to enjoy our sunshine and beautiful weather, make sure to get out on Lake Okeechobee to cash in on the action. October bass fishing is only a precursor of what is to come!
Our local experts are knowledgeable of multiple areas across the lake. Wherever your destination you are traveling is, you can access this amazing lake. Captain Dave Lauer focuses on the southeast side of the lake out of Belle Glade. Also, you can find Captain Joe Gruny also adventuring out of Belle Glade and Slims Fish Camp for big bass!
Captain Dave Lauer adventured out with Jason, Shane, and Justin. They were traveling from New Hampshire looking to get on some Florida largemouth bass. While visiting Florida for their birthdays, Lake Okeechobee was on their list to do. They normally spend time catching smallmouth bass but Okeechobee has been a dream for them. It is always nice being able to be part of first-time experiences.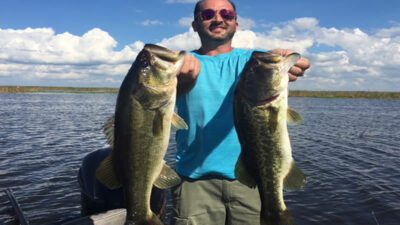 The early morning bite was strong in October. Each morning started with artificial baits from top water, horny toads, and flukes. After the bite, they switched over to live bait. Several quality bass came early in the morning for Jason, Shane, and Justin. They caught 20 largemouth bass with most in the 2-pound range. As the day went on, Okeechobee showed her true colors producing a big bite. Jason caught a bass weighing 5 pounds making for a successful day of bass fishing.
The bass is chasing shad in the grasses. Make sure to get out there while you still can to cash in on the bite and enjoy some beautiful weather. Captain Dave is looking forward to fishing with Jason, Shane, and Justin again in the future!
Exciting Day on the Water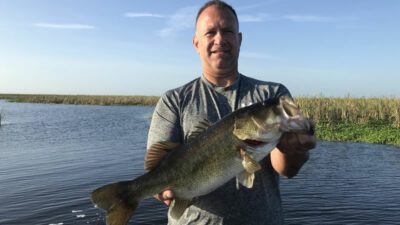 Just shortly after this amazing fishing trip, Captain Joe adventured out of Slims Fish Camp. He had the pleasure of fishing with Vinny and his son Nick. They were traveling from New Jersey looking to also get in on the October Lake Okeechobee bass fishing. You just never know what will bite the end of your line when fishing this amazing place.
It wasn't long into their trip that they started catching some quality bass. Winds were picking up out of the north but that didn't stop the bass from biting. The most effective method on this fishing trip was wild-caught live shiners. Vinny and Nick caught 30 largemouth bass weighing from 2 to 5 pounds. They had a great time on the water. Conditions were just right with water temperatures in the 80s. As that temperature begins to drop, the bass will start to really turn on.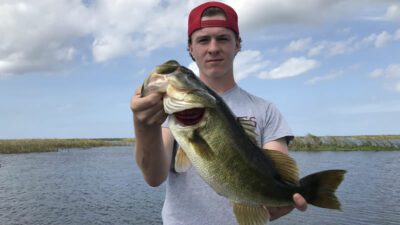 Captain Joe is looking forward to fishing with Vinny and Nick again in the future! They will be back for more incredible action on Lake Okeechobee.
Don't miss out on this fishing season. It is just around the corner and it is the best opportunity to catch a trophy largemouth bass. You never know what you will catch on a fishing adventure. Our local experts can put you on the fish of a lifetime. Bring along your family and hop on board for a day on the water you won't forget. We look forward to seeing you on the water next time!
Come Visit Florida and Catch Yours Today.
If you enjoyed this post about Okeechobee Fishing, you might also enjoy this fishing report from the same area.
Don't forget to follow us on Facebook, YouTube, Twitter, and Instagram.