Naples Florida Peacock Bass Fishing
Hi, this is Captain Mark Rogers today We were fishing at the Golden gate canal.
It was a nice day There was a slight breeze, which helped push us down the canal nicely and slowly, it was overcast all day which kept the temperature down and made fishing conditions perfect for us.
We started off with some shiners, and I was drifting shiners behind the boat as he fished off the front throwing a jerk bait.
He wanted to catch some Naples Florida Peacock Bass Fishing, so that's what we had set our sights on.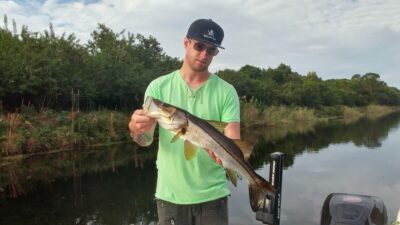 Within 5 minutes of throwing the shiner out, we caught a large mouth, and then the next one out caught the first peacock bass which was about a 2 1/2 pounder.
We continued down, and he worked the jerk bait off the front and caught a few largemouths we got about 5 more peacocks and then five more largemouth bass on the shiners.
He hooked a good peacock on the jerk bait and it turned out to be a good day and all and we caught about ten or eleven fish with some nice-sized peacock bass and a decent-sized snook.
Anyways the Golden gate canals are really turning out pretty well with the peacocks. I seem to be getting a lot bigger and a lot more active. So keep searching for those big ones.
Captain Mark Rogers is a full-time Naples Florida Peacock Bass Fishing guide and touring professional. Experience includes BASS Master Elite Tour, FLW Tours, Everstart, BFL tournaments, and many others. Mark has a list of accomplishments in the fishing industry a mile long. Mark originally from California moved to Florida, and sharpen his northern skills years ago to master guiding on the world-famous Lake Okeechobee.