Kissimmee Florida Bass Fishing Guide Capt John Leech
Hello, this is your Kissimmee Florida Bass Fishing Guide, Capt John Leech, with my fishing report for Lake Toho. I had Van out and had a bit of a tough day; we caught some fish but missed a lot; the fish were hitting funny. They would pick a shiner up and run with it; then, when you went to set the hook, they wouldn't be there.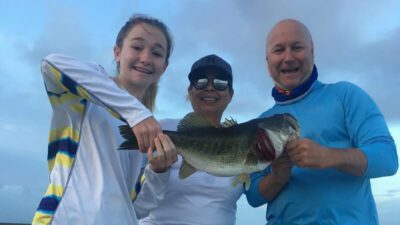 We caught some fish, but for all your fishing adventures, go to BassOnline.com. For now, this has been your Kissimmee Florida Bass Fishing Guide, Capt John Leech.
Tight lines until next time.
Captain John Leech has been a full-time guide for over 20 years in Central Florida. He specializes in Central Florida bass fishing and is one of the best at targeting trophy size large-mouth bass in Orlando. His first guide trip was on the Harris Chain of Lakes in Leesburg, Florida. By 1983 I was fortunate to do the one thing I loved the most FISH, and make a living doing it.
That is what I call a dream job Central Florida Bass Fishing Guide no doubt that fishing in Orlando is one of the best in the world.
Still Undecided?
Want to go fishing in Kissimmee Fl, but visiting world-famous theme parks? Coming to Kissimmee and need additional information to make your plans for bass fishing Kissimmee Fl? Maybe you are looking to get up close and personal with a Florida alligator?
Because when it comes to Kissimmee Florida vacations, it's got a lot more than just Micky Mouse. Bass Online is just minutes from everything you have planned for your perfect holiday. With so many options in Kissimmee, it's no wonder why, year after year, families come here to get-a-way and create memories.
So please read our complete guide to fishing in Kissimmee, Florida, and we hope to answer all your questions and provoke you to try it shortly.