Friday Kissimmee Bass Fishing
Are you looking for an outdoor getaway? Have you ever wondered what bass fishing can offer? While you are traveling to Kissimmee, FL, make sure you experience all that there is to offer. Bass Fishing is a fantastic way to explore Florida. Bring your family along for a fishing adventure of a lifetime! Hop on board and enjoy some Friday Kissimmee Bass Fishing on your next family vacation.
Our local experts have years of fishing experience. What this allows is for you to maximize your time on the water. Captain John Leech has been fishing Central Florida for over 20 years and can help you explore a majority of the lakes here. Lake Toho is a hot spot for big bass and bass fishing in general. Its proximity to the tourist attractions makes it a perfect fit for a fun day on the water.
Here is your Lake Toho Bass Fishing Update with Local Expert and Captain John Leech:
Captain John had the pleasure of fishing with Mark. He was visiting Central Florida on vacation and on a special occasion. Mark and his finance were getting married the next day and had to get on the water to relieve some stress. His wife to be bought him this awesome fishing trip. Mark had a blast on the water fishing with live bait.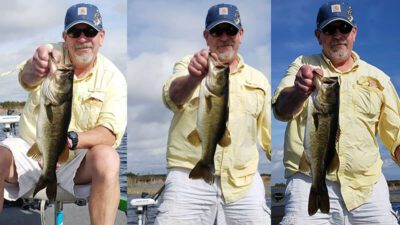 When you are looking for the ultimate freshwater bass fishing experience, live bait is the way to go. Wild caught live shiners are like candy to the bass here in Florida. They had plenty of bait to go put a hurting on the bass. Mark caught over 60 Florida largemouth bass. Unfortunately, he could not find a giant but had an absolute blast the whole fishing trip.
Mark will be back in the near future to land him a Central Florida Big Bass! Captain John is looking forward to their next adventure on Lake Toho.
The next day, Captain John was back on the water with Mark and Catherine. They were traveling to Florida on vacation as well looking for a fun time on the water. It was a really great trip with a lot of action. On this trip, the big bass came out to play. Captain John had to move a lot in order to find where they were but once he did, they dialed in on them.
Mark caught one of his biggest bass to date weighing in at 7.8 pounds. Catherine caught one right at 5 pounds as well. The bite was strong and the bass were out to play. It is always good to land some big fish on a fishing trip. Sometimes the conditions don't pair up just right to make that happen.
Mark and Catherine are looking forward to coming back and crushing the bass up again. Captain John can't wait to get back on the water with this lovely couple in the future!
Just shortly after this trip, Captain John was back out on Lake Toho. This time, he had the pleasure of fishing with Rob, who was traveling from Virginia. After many days and weeks trying to get this trip out, we finally made it happen. It was a long time coming. Changing weather conditions made for changes that needed to happen. Rob recently retired and wanted to spend some more time on the water. There is no better place to do it than in Kissimmee, FL!
The first fish was caught on an artificial bait while flipping cover. After that several fish were caught on a worm in open water focusing in on grass lines and beds. A crankbait was also another effective method to catch bass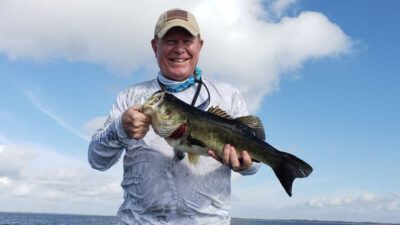 along with a break line or grass line. Rob wanted to learn some new techniques and we made it happen for him. Captain John is a patient man wanting to teach those eager to learn.
Rob had a fantastic time on the water and is looking forward to his next adventure!
If you are looking for a great fishing adventure, now is the time to come. The big bass are biting and spawning. While this happens, you have the ability to land that trophy you are after. Our local experts and professional captains will get you on the fish. We look forward to seeing you on the water next time!
Come Experience Kissimmee and Catch Yours Today…
[fusion_button link="http://bassonline.com/trips/city/kissimmee/lake-toho/" title="BOOK YOUR LAKE TOHO FISHING TRIP ONLINE NOW!" target="_self" alignment="center" modal="" hide_on_mobile="small-visibility,medium-visibility,large-visibility" class="" id="" color="default" button_gradient_top_color="" button_gradient_bottom_color="" button_gradient_top_color_hover="" button_gradient_bottom_color_hover="" accent_color="" accent_hover_color="" type="" bevel_color="" border_width="" size="" stretch="default" shape="pill" icon="" icon_position="left" icon_divider="no" animation_type="" animation_direction="left" animation_speed="0.3″ animation_offset=""]BOOK YOUR LAKE TOHO FISHING TRIP ONLINE NOW![/fusion_button]
If you enjoyed this post, you might also enjoy this fishing report from the same area.
Don't forget to follow us on Facebook, YouTube, Twitter and Instagram.
 
[fusion_text]<img class="alignleft" src="http://bassonline.com/wp-content/uploads/2014/10/john_leech-50x50color.jpg" /> About <a href="https://bassfishingcentralflorida.com/" target="_blank" rel="noopener">Captain John Leech</a> is a full-time guide for over 20 year in Central Florida. He specializing in Central Florida bass fishing and is one of the best at targeting big trophy size large-mouth bass in the Orlando area. His first guide trip was in Leesburg, Florida on the Harris Chain of Lakes. By 1983 I was fortunate to be able to do the one thing I loved the most FISH and make a living doing it. That is what I call a dream job Central <a href="https://floridabassfishing.com/" target="_blank" rel="noopener">Florida Bass Fishing</a> Guide no doubt that fishing in Orlando is one of the best in the world.[/fusion_text]