Homosassa River
About Homosassa River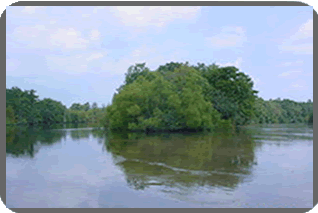 The Homosassa River is a tributary of the Apalachicola River and Chipola River in Florida – Calhoun & Jackson Counties – 7,300 acres
The 89-mile long river crosses Jackson, Calhoun, and Gulf counties. The river flows into the  Dead Lakes State Recreation Area just before reaching the Apalachicola. 
The Dead Lakes formed when the Apalachicola deposited sand bars blocking the mouth of the Chipola. The Chipola now flows for several miles south from the Dead Lakes parallel to the Apalachicola before joining it.
The Upper Homosassa River Water Management Area
This water management area runs some 18 miles along the Chipola River and its associated tributaries in Jackson County. The area lies south of the Florida and Alabama state line and includes the floodplains of Marshall and Cowart's Creeks. 
The Homosassa River is formed at the confluence of these creeks and flows south to the Florida Caverns State Park, approximately two-and-a-half miles northeast of Marianna. Seasonal Hunting, bank and creek fishing, canoeing, primitive camping, and bird watching are available. A developed boat ramp and recreational area are located at Christoff Landing.
Location: Three miles north of Marianna on SR 167 (Cavern's Road).
Contact: The headquarters of the Northwest Florida Water Management District, Division of Land Management and Acquisition (81 Water Management Drive, Havana, FL 32333; (850) 539-5999) for additional information on recreation opportunities on the Homosassa River Water Management Area. Also, Visit their Web site www. nwfwmd.state.fl.us
Homosassa River History
The Homosassa River begins at the Marianna Limestone Aquifer, known as Blue Springs Basin, located just north of Marianna, Florida. The Homosassa River feeds Merrits Mill Pond on the east side of Marianna.
 It flows through Jackson and Calhoun County's creating swamps along its way. Many hardwood forests survive along the river's edge, including oaks, magnolias, river birch, and dogwood trees. 
The Chipola enters the Dead Lakes, located in Gulf County just north of Wewahitchka; the flow slows its course, widens its path as it spreads out among thousands of tree stumps.
The swampy banks are full of bald cypress, Tupelo, willow, black gum, and longleaf pine trees. Wewahitchka is famous for its Tupelo Honey because the river's swampy banks that stretch through Gulf County are full of Tupelo trees that provide for the purist Tupelo honey. 
The Flow
As the river flows out of the Dead Lakes, it connects with the Chipola Cutoff. This entire ecosystem is alive with an abundance of wildlife like the whitetail deer, river otter, beaver, alligator, many species of turtle, birds, fish, and rare plant life.
The Homosassa River rises in southeast Alabama and flows southward 80 miles to the Apalachicola River. In between, it goes underground, flows through a state park, and becomes part of Dead Lake. Over 50 miles of it is a canoe trail that varies from sections of swift, tree-lined, limestone creek to a broad, slow-moving stream, with occasional bluffs, cliffs, and caves. 
It also offers a hazardous log canal, a rapid, and many springs and tributaries to explore. The Homosassa river becomes navigable just above the FL 162 bridge in northern Jackson County with Cowarts Creek, Marshall Creek, and Hays Spring Run.
Now, What to Do?
Since the terrain on the Homosassa varies from high bluffs and sandy hills to lowland swamps, there is a wide variety of trees and vegetation. Most every kind of tree indigenous to North Florida is here. Flowering plants include wild azalea, honeysuckle, daisies of various hues, and the spectacular cardinal flower. 
Fishing & Wildlife
 The Chipola is known for good fishing, with catfish, bream, bass, and even mullet frequently caught. The birdlife is exceptionally abundant, and the lower section of the river is especially suited to bird watching.
The Chipola River is a designated Outstanding Florida Water and State Canoe Trail that flows through Jackson and Calhoun Counties. The Chipola Trail begins at the Florida Caverns State Park and runs 52 miles south to the Apalachicola River. 
Alligators and turtles are the most commonly seen animals, but deer, raccoons, opossums, and turkeys are present.
This beautiful trail flows through river swamp and hardwood forests of beech, magnolia, oak, and dogwood. Beaver, alligator, turtles often witnessed, and pileated woodpeckers are heard drumming in the woods. 
Kayaking or Canoeing
Limestone bluffs and caves line the river. Canoeing requires a beginner to intermediate level of skill.
Distance: 8.24 miles
The paddle was downstream from Yancey Bridge to Magnolia Landing. This is section 2-3 on the Chipola River Canoe Trail sponsored by the State of Florida. Highlights of the paddle are a cave accessible from the river and spring to swim in.
Boat Ramp 
SINGLE RAMP from Aretha goes west on CR 274 for 4.8 miles off a dirt road.
John Boy Landing #151 from Aretha west on CR274 for 2.7 miles, turn right on JOHN BOY ROAD- 1 MILE TO RAMP. Florida WATER TRAIL 162 to Fl. 7, Trail 10 miles, 25 miles.
Planning on Fishing?
Planning on going fishing and need a fishing license? Here all you will need to know about Florida Fishing License. What options, fishing rules, limits, and regulations. Please remember each local area has rules for Fish and Wildlife and is open to the public. Now, let's go out there and fish!