Dead Lakes Wewahitchka Florida
Dead Lakes is reported to have been formed when sand bars created by the current of the Apalachicola River blocking the Chipola River. The ensuing high water killed thousands of trees in the floodplain, giving the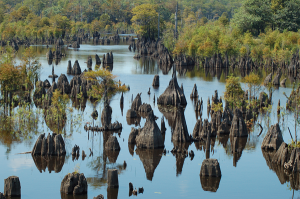 area its name….but who really knows!
About Dead Lakes
The dead lake's history has several theories as to what happened; one theory is years ago a temporary flood of saltwater killed the cypress trees; another is as we meant earlier the Apalachicola river's current made a sand bar where the Chipola empties out and blocked the river and flooded the swamp. Who really knows, we think what really happened is that the dam that was built caused the death of these majestic cypress trees. Now, only the stumps are left to rot away. That is how the "Dead Lakes" got its name.
This Dead Lakes is an 83-acre area well-known as a fishing impoundment on the Chipola River. Freshwater species regularly caught include shell crackers, bluegill, and bass. Anglers find fishing in the spring season to be the most successful. Several small man-made ponds that are actually former fish hatcheries, also offer great fishing opportunities. Anglers may fish from shore or launch a motorboat, kayak, or paddleboat.
Dead Lakes Fishing
The Dead Lakes and surrounding areas are home to some of the finest and most unique fishing you will ever experience. The area is filled with wildlife and many sub-species of the largemouth bass family, big catfish, and hundreds of other types. Anglers should always exercise caution while boating due to the many snags, never-ending changes in water levels, and stumps in the lake.
Black crappie fishing is best throughout this quarter of the year. Try trolling for "specks" in the main channel of West Arm Creek using crappie minnows and jigs. FWC sampling in the fall indicated good numbers of bream (bluegill and redear sunfish) in the lake. These fish will be found by fishing near willow tree islands associated with stumps and cypress knees.
Shellcracker (redear) and bluegill anglers should fish an ultralight rod with a number 10 gold hook on the bottom with a wiggler. Stumpknockers (spotted sunfish) and redbreast sunfish can also be caught near stumps and snags with worms or beetle spins.
Patterns & Timing
Largemouth bass fishing is good year will slow down during the winter but should pick up in February. During the winter months try fishing the old river channels and curves and cuts in the lake near snags and stumps. Work your artificial baits slowly, as bass will be less active. Best baits for fishing artificial are spinnerbaits, 3/8oz jigs, 8″ rubber worms, chatter baits in the off-color water, and of coarse live shiners.
While dead lakes are considered a conservation area, it is not part of the state park system. There is very little information on the area, and you must really go out of your way to explore it; within seconds of arriving, you will know the journey was worth the time and effort. What a wonderful place the Dead lakes, surrounded by powerful rivers your in the area where the cell phone is worthless and time doesn't change. The stillness and power of the scene reminded you of the third scary movie. But unlike in the movies, there weren't droves of wildlife; instead only the occasional local fisherman disengaging from life.
Whether the Dead lakes were formed when sand bars created by water flowing from the Apalachicola was blocked up by the Chipola River, who really knows but what's left is one of the most beautiful rivers of the Florida Panhandles, along with a thriving ecosystem for plants, trees, and wildlife.
Dead Lakes Locations
Dead Lakes offers fishing, boating, camping, and nature study. A boat ramp is available.
The uplands are covered mainly by longleaf pines, with sweet bay, magnolia, and cypress trees bordering wetlands. Animal life includes foxes, cotton rats, raccoons, opossums, deer, rabbits, skunks, beavers, turtles, snakes, and alligators.
Dead Lakes State Recreation Area
P.O. Box 989
Wewahitchka, FL 32465
(850) 639-2702
————————————-
Dead Lakes Sportsman Lodge
2001 Lake Grove Road
Wewahitchka, FL
Phone: (850) 639-5051
Office Hours:
Monday – Friday 5:30 AM to 7:30 PM
Weekends 5:30 AM to 8:00 PM
View Larger Map